Georgetown and Jealousy. PART 1
Submitted by
Saskia
on January 18, 2011 - 7:45am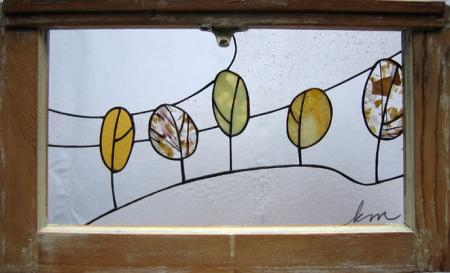 Katie McLellan_1Five Trees on a Hill. Stained glass by Katie McLellan – image from katiemclellan.com
It's a bright and sunny and bitterly cold January afternoon. The city slowly slips away behind me and rail fences begin to appear criss-crossing their way through the white, white snow. I am on my way to Georgetown and I can already tell I am going to be very, very jealous.
I zip right past the driveway and have to double back. I miss it because it hasn't been plowed, just tire tracks and I hold my breath as my 11 year-old Toyota Echo lurches it's way towards
my destination. I whisper thanks to myself for investing in winter tires a few years back.
I first encountered the work of Katie McLellan when I attended a workshop at Wise Daughters in Toronto's Junction. I noticed her incredible wall-hangings, or "wallages" as she calls them, because of their texture and colour and terrific graphic quality. I saw her work again a few months later at the One of A Kind Show but it was her mom working the booth that evening – Katie was shopping the show .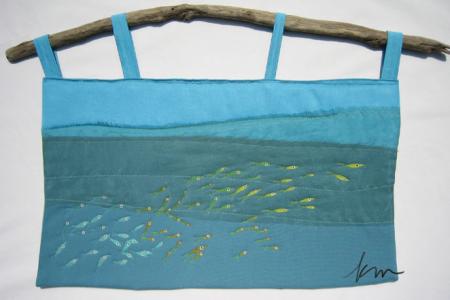 Katie McLellan _ 2Fish. Wallage by Katie McLellan – image from katiemclellan.com
When I emailed her to tell her that I was really interested in her work and talking to her about her experiences in the crafting world she was very enthusiastic. She also told me about her house-mate Jeannette Lorito who is also an artist.
The small white farmhouse at the end of the drive seems to be part of the landscape – white on white – a direct contrast to the warm colour of its interior. I am greeted at the door by Jeannette, Katie and Frankie the dog. After our hellos and introductions I am given a pair of slippers and Katie takes me to see where she works. The first thing I notice about Katie is her effervescent personality. She shares both her positive and negative experiences with me, which is refreshing and honest, and instead of being discouraged about the negative experiences she speaks about them as lessons learned which is a lesson I should learn.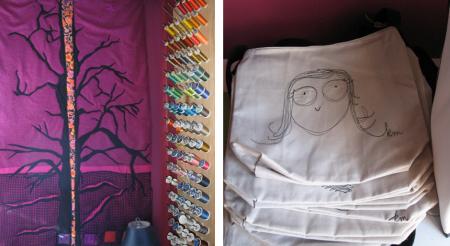 Katie McLellan Sewing RoomLeft: Illumination of the Soul wallage. Right: Stitchy Satchels by Katie McLellan.
We chat as she leads me through the small home to her bedroom that doubles as her sewing room. Her main work area is in the basement but she prefers to sew in natural light. The plum coloured walls are echoed in a beautiful "wallage" of a tree that is hanging in a corner next to the spool rack that her father made her. Beside the sewing machine is a stack of bags with wide-eyed faces drawn on them in a whimsical style. These "drawings" are actually done on the sewing machine. It's a technique that Katie calls free-motion stitching – the teeth that grip the material underneath are lowered so that they are no longer guiding the material in a straight line. I am mystified by this because even when my sewing machine is in full-grip mode I still can't make it do what I want. The thought of no grip at all makes me see visions of my hand sewn to my  forehead.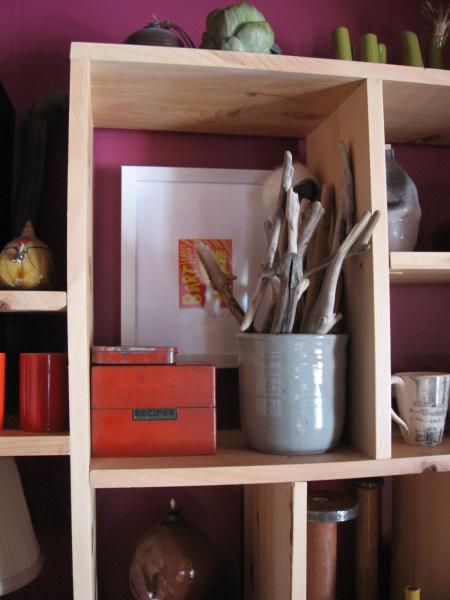 Katie McLellanVase of driftwood – Katie finds a lot of her inspiration in nature.
There is a vase jar of driftwood sticks sitting on a shelf above her desk. When Katie spies me taking a photo of these she decides that it is time to go to the basement.
Katie's workroom is in a typical, unfinished basement ­ concrete floors and walls, exposed pipes and a  water heater in the corner. These unrefined details are completely overshadowed by divine colour and texture. Shelves of materials, neatly folded and organized by colour, buckets, bins and crates filled with driftwood, a collection of zippers in different colours and sizes, a stack of old sweaters to be ripped apart and made into stuffed dudes, a worktable with a partially finished "wallage", an ironing board with 3 little stuffed owl "dudes" are all vying for my visual attention. And at the back of the is an area where sheets of glass and pieces of metal are waiting to be turned into stained glass windows. I can barely look and listen at the same time.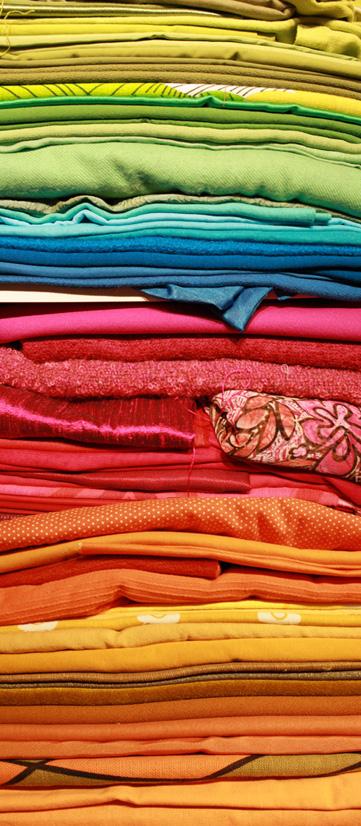 Katie McLelland_FabricA rainbow of fabric. – image supplied by Katie.
The time and effort that goes into each one of Katie's pieces is evident in every aspect of her work; from the meticulous colour and pattern choice, the textures, the planning, the designing to all the teeny tiny details ironed and sewn into place. My next question, of course, is process. How is she able to produce so much when the time involved in each piece is so great? Katie tells me of her strong, supportive family. Starting out as a graphic designer only to quit, live at home and start a business making "wallages" might not have gone over so well in other families. The support of her family is a huge help in Katie's life and she refers to her mom as her "secret weapon". Katie shows me one of her purses – "I pick all the fabrics and and sew the decorative panel. My mom cuts them out, prepares the lining and pockets takes all these pieces and assembles the purse. She does what we call 'grunt work'." Katie goes on to explain the importance of taking the necessary time with each piece. If you have to rush and not take the time people can tell. Even if it is just a few minutes at the beginning to sit back and spend a moment with the piece – the customer can sense it when they look at it.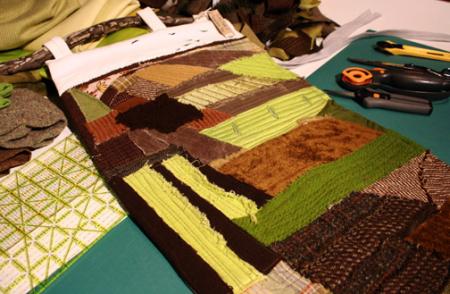 Katie McLelland This Good YearThis Good Year wallage by Katie McLelland. – image supplied by Katie
Another big question I need to ask Katie is income. My few experiences this year with shops and shows have been, for the most part, discouraging. Presently craft shows are her main source of income. Katie shares with me that shows are a great way to get out and meet people and receive firsthand feedback on your products. Still, she would like to reduce the number of shows that she participates in and focus more on her online sales. I asked her why, especially since she is quite successful at shows. Shows take a lot of energy, she explains, not only in the preparation but also in being there all day and all night interacting with people. The days are long and while you are at the show you can't be working on more products.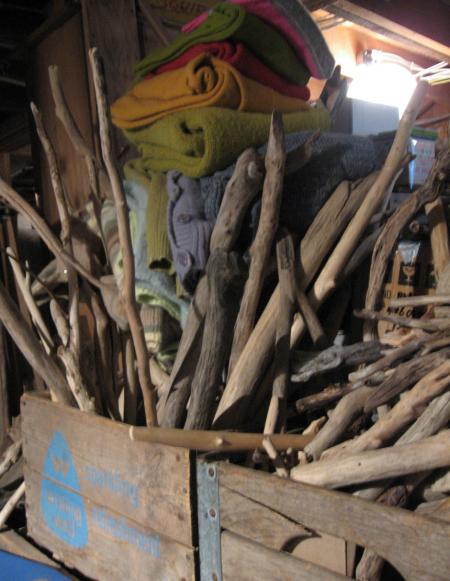 Katie work roomCollections of driftwood and sweaters to be recycled into "stuffed dudes".
Booth design is another issue. Katie's first One of a Kind (OOAK) Show was this past Christmas and although she made a profit (YAY!) she still left feeling disappointed. Katie not only sews wallages, little stuffed dudes and hand bags but she also makes stained glass windows and ornaments. "There can't be too many varied items in your booth and the colours should be similar or displayed in an organized fashion" she explains. "If there is too much variety people can't see what's there. They become overwhelmed and leave." Katie believes that this was a problem with her booth at the OOAK.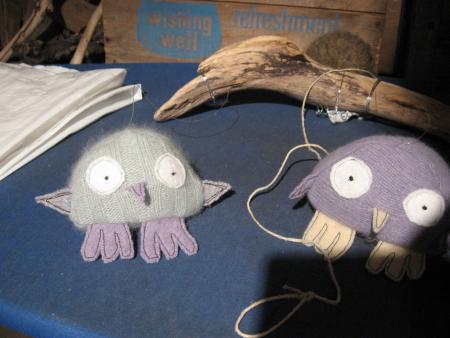 Stuffed dudes in a mobile.Stuffed dudes in a mobile by Katie McLelland.
The build up of excitement before a show like the OOAK can get you so overly excited that it can't possibly meet your expectations and you inevitably walk away a little deflated. Katie has heard that it takes approximately 3 years before a show can become really profitable because the customers need to become familiar with your work. I know that to be true of my own shopping experiences at the OOAK. I look around, remember what I like, I save up for it and buy it the following year.
Katie looks and learns from what other vendors are doing. The biggest lesson she said she learned this year is that you need to make what people want – and the people seem to want clothes. Katie… I can hardly wait!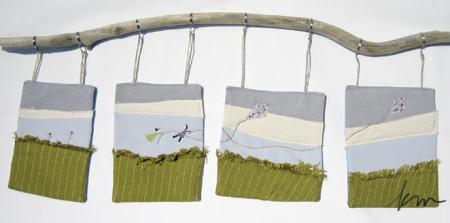 Katie McLelland Fly With MeFly with me. Wallage by Katie McLelland. – image from katiemclellan.com

Stay tuned for PART 2 of Georgetown and Jealousy – Next Tuesday.