A new direction
Submitted by
Saskia
on June 3, 2012 - 3:59pm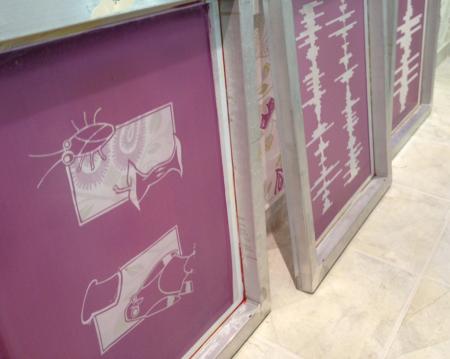 BaitedHookScrees for tea towel series.
Making sock monkeys these past few years has been a joy. Each pair of shiny button eyes and every
bovinesque nose has brought a smile to my face. Alas, their comes a time when you need to say "It's time to move on."  Besides, they are so time consuming that the selling price barely covered my costs. When I sold them through retail stores I didn't make a penny.
Michelle (of Kempton Jones) and I met a few times to try to come up with a new tactic. We decided to pull our resources together and collaborate on a project which would help reduce costs, create a more cohesive shopping experience for our customers and allow us to explore a different avenue of creativity. She suggested screen printing. My newly renovated basement has since been converted into a printing studio – complete with printing pad and drying racks. Our new focus is on making screen printed tea towels.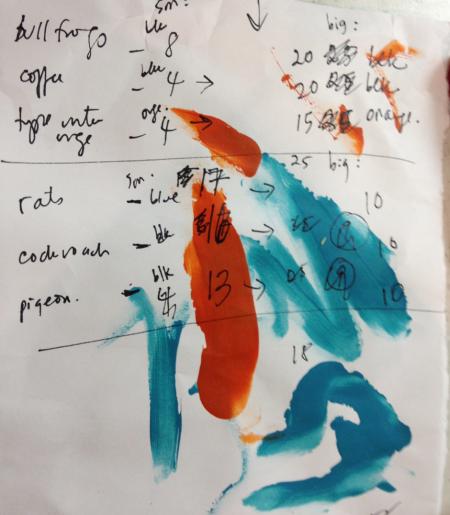 quantitiesFiguring out quantites and colour tests.
Michelle had the idea to transform certain sounds into wave patterns. She chose the sound of slurping coffee, boisterous bullfrogs and a tapping typewriter for her series of towels. The patterns are bold and modern and make a striking visual statement.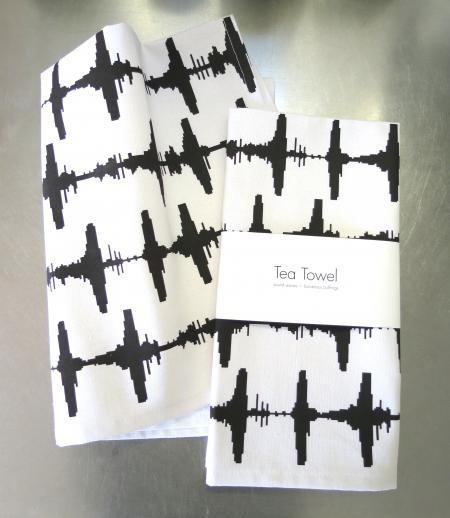 Kempton Jone Sound wavesSound wave tea towels by Michelle Matsui of Kempton Jones.
My towel concept sprung from the culinary idea of food pairings. Instead of pairing the usual wine with food I paired unsavoury urban critters with their favourite entrées; rat + cheese, pigeon + stale bread and cockroach + apple core. I drew these critters in a whimsical way and called the series Urban Pairings. I mean who wouldn't want vermin intheir kitchen?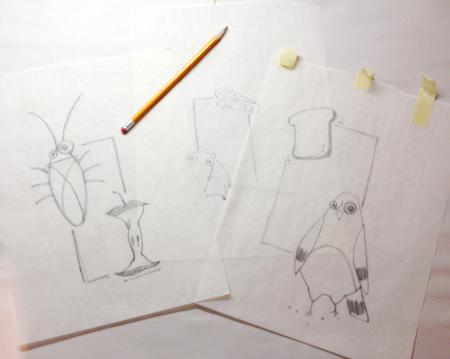 Baited hook handmade towel sketchesSketches for urban pairings by Saskia van Kampen.
After finalizing the images we sent them to G&S Dye to be transfered onto screens. (My basement is not equipped to expose screens... maybe in a  a few years). While this was being done we were buying and testing different fabrics as well as checking out our competition. This step was quite frustrating; to find a good quality cotton/linen fabric at a reasonable price point proved to be difficult. Once we landed on a couple fabrics we bought a few yards and proceeded onto print testing. We pre washed some and printed on unwashed to see how the inks would adhere to the fabric. Then we washed it all again and discovered that the pre-washed wasn't as effective. Some materials became too linty or looked dingy after the first wash. We did have one fabric that worked quite well. I went to the fabric shop and bought 27 yards which would yield 200 tea towels.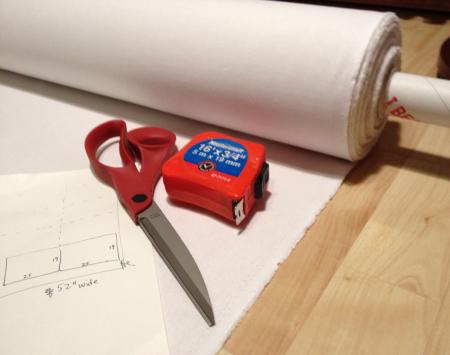 baited hook handmade27 yards of fabric waiting to be cut down to size.
We then had to cut it all. Crawling around on the ground, unrolling, measuring, cutting, unrolling, measuring, cutting.... it was endless, the fabric seemed to regenerate itself and by the end of the evening both Michelle and I were moaning with fatigue. The next day the skin on my knees was raw and my entire body ached. What a workout!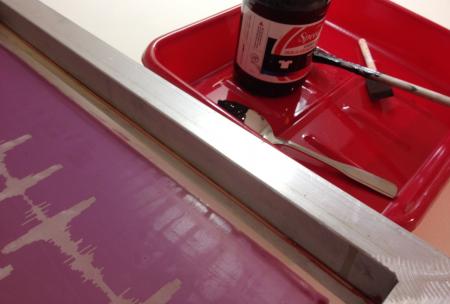 baited hook handmade screen printGetting ready to print.
Printing was another learning curve. Both Michelle and I have some background in printing but it still took us a few trial runs before getting the hang of it. I had 4 bed sheets cut up for us to practice on and we went through the whole pile practicing our technique and figuring out a few work-arounds. Michelle discovered that she needs to stand on a stool in order to get the angle right. I discovered that I need to use more ink so that I don't run out half way through a pull. We both discovered that we need each others help pinning and unpinning the fabric, holding the screen steady and for general moral support. We now have our system in place and it goes quite smoothly. If I'm having an bad day of printing Michelle will pinch hit for me and I will be the pinner. If Michelle is having trouble inking her screen she now daubs more ink on without fear. We work very differently but we work well together.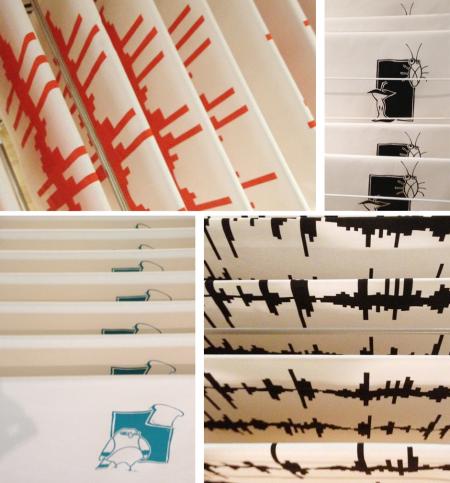 baited hook handmade screen printRack 'em up! Towels freshly printed and placed on the racks to dry.
When we print the basement guest room has 3 drying racks filled with tea towels jammed into it. We even use a busted rack by propping it up with my winter boots. The drying process usually takes a day and then the real work begins. Michelle was told by a fellow crafter that linen holds a crease. Since our tests using a hem foot were less than pleasing we are now hemming manually by folding and creasing the hem first then stitching it on the machine using a regular sewing foot. The result is very professional but quite labour intensive. One evening while sewing a pile of towels my needle simply gave out – shattering into 3 pieces and sending metal shrapnel flying into my face. It's a good thing I wear glasses.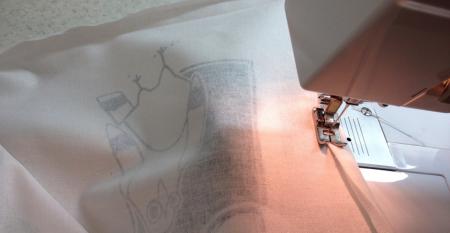 baited hook handmade sewingSewing the folded hems.
The final step is heat setting the ink. If this is not done properly the design with wash away the towel is laundered. Each towel needs to be presses using an iron at maximum heat for 2 minutes on each side. Fortunately this can be done while zoning out in front of the television. Then we fold them, package them and we're done.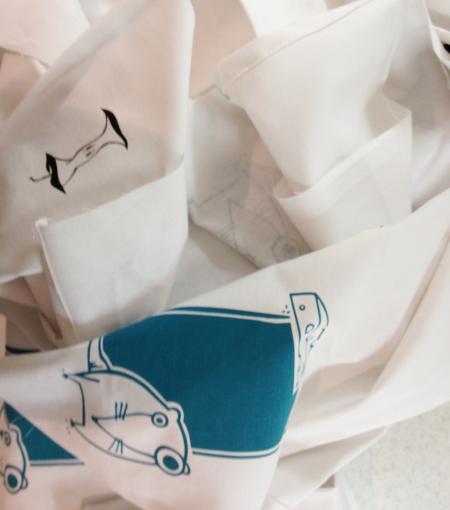 baited hook handmade ironingPiles of towels waiting to be heat set.
This weekend I completed 30 towels and I am wondering how this is more efficient than sewing a damned monkey.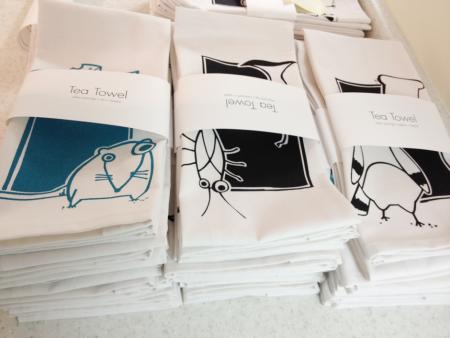 baited hook handmade30 completed towels.
Our first craft show where we will be featuring these towels will be on June 16 at the Barns Art Market
You can always order them through Etsy or my visit my website's home decor section.
I promise to still make sock monkeys on client request.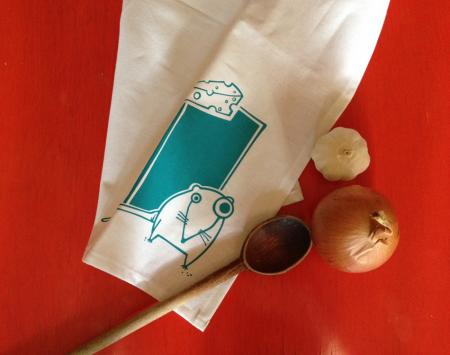 baited hook handmade urban pairingsProduct shot for Etsy and personal website.
A few weeks ago we finished off our second bolt of cotton/linen only to discover that our fabric shop no longer carries this particular fabric. We now are looking for a replacement fabric. If anyone knows of a shop in Toronto or surrounding area that may have this in stock at a reasonable price please let us know.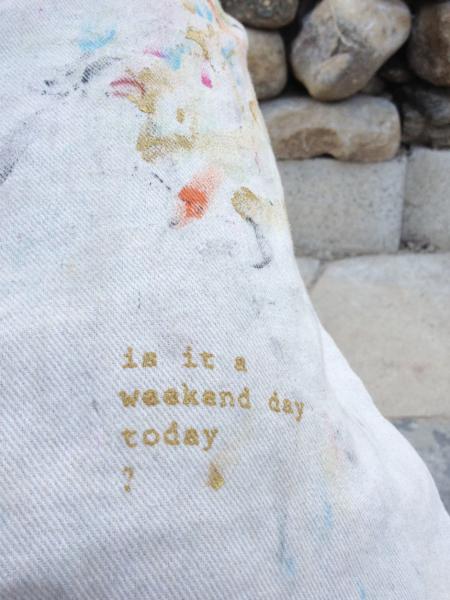 breakTaking a break outside. Photo of Michelle's printing apron.