This is it! The Cabbagetown Festival.
Submitted by
Saskia
on September 9, 2012 - 7:44am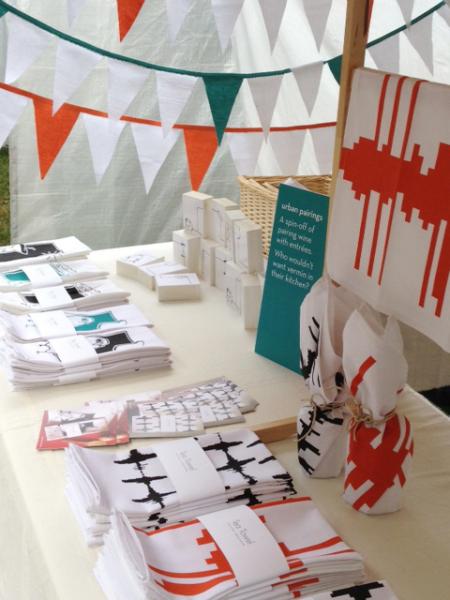 Baitedhookhandmade_Cabbagetown
The months and months of hard work; crawling on my hand and knees cutting miles of fabric, screen printing and cleaning, printing and cleaning, folding, sewing and ironing for hours... we have arrived – The Cabbagetown Festival!
We arrived at Riverdale Park on Friday morning at 7:30 to stake our spot. Clutching coffees and chatting with the other sleepy vendors was the perfect way to start the weekend. At 8:00 Randy Brown, the Founder and Executive Director, biked down the park paths shouting out the "go-ahead" to
set up our tents. The flurry of activity that followed was in direct contrast to the dozy hour before. Tent poles clattered, metal clothing racks rattled down pathways, contraptions of all kinds with wheels thundered their way through the park to be constructed into clever walls and display units.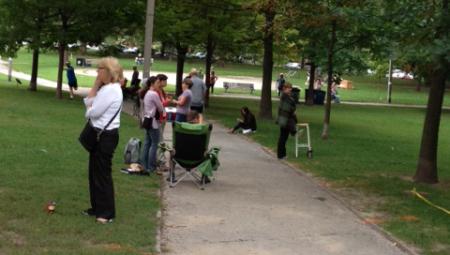 Baitedhookhandmade_Cabbagetown2Staking our spot in Riverdale Park for the Cabbagetown Arts & Crafts Show.
Michelle and I worked away at our booth. Our tent faltered a few times but we were able to troubleshoot with some clever MacGyver-ing using tent pegs and packing tape. By noon we were all set to go and our tent looked festive and cheerful.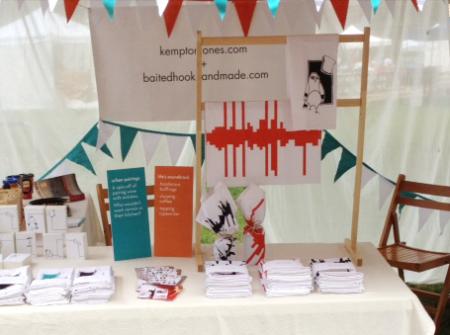 BaitedhookHandmadeKempton Jones and Baited Hook handmade at the Cabbagetown Arts & Crafts Show.
I left Michelle so that I could walk around the park and see the other vendors. I curled my way through the sea of tents and saw familiar faces at every turn – The Singing Sparrow, Kelly Grace, Gosia, Gerry Paul, Gundi, Katie McLellan, Thomas Aitken and Kate Hyde. All of these people I have admired for many years. To be part of a show alongside these individuals! I came back to our booth and exclaimed to Michelle how proud I was of us – we have finally made it.
Friday was a bright beautiful sunny day, but it was slow due to the fact that it was a weekday. The afternoon picked up a bit and we chatted with quite a few people who strolled past our booth. Michelle and I went home that evening excited about the up coming weekend.
At 6:00 am on Saturday morning I was woken up by the sound of pounding rain. I wolfed down some breakfast grabbed my Wellingtons and a raincoat and ran to the car. When Michelle and I got to the park it was still pouring and our hearts fell. Many tents had collapsed with the weight of the water that had collected on the roof. One booth that had begun to collapse still housed paintings which were getting soaked. Michelle and I and a few others attempted to save the paintings by moving them further into the tent and cleared the rain water from the roof. Knowing how hard one needs to work to prepare for these shows made these sights tragic.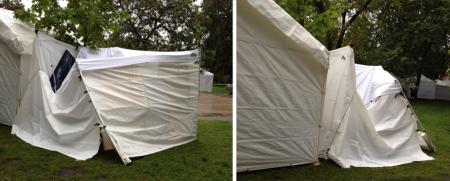 baitedhookhandmade-tentsCollapsed tents due to the rain.
We were sad and depressed and were unsure of what to do next. But one by one, vendors came in and began to set up their booths despite the torrents of rain that were still coming down. It was quite wonderful to see smiling faces and positive attitudes. Even the tents that collapsed somehow got propped back up again. By the 10:00 start the market was open for business. Low and behold the Cabbagetowners did not let us down. In they came with umbrellas and raincoats. What an incredible feeling.
Overall the show was a terrific success. We met many new people and learned a lot of valuable lessons. In the booth opposite ours was a woman named Karyn Climans who sold fun helmet covers. Her company is called Tail-Wags  – people swarmed her booth. She was fantastic with her customers and Michelle and I watched and learned. Karyn was eager to answer our questions and give us advice. Thanks Karyn!
Alexa, The grand-daughter of a good friend, came by everyday to help us in our booth. Alexa was a wonderful support and was a great helper. She took me with her to see the Nugs. The booth was surrounded by kids and it was fantastic to hear their questions. Each question was answered with a more and more zany answer. The nugs were a big hit!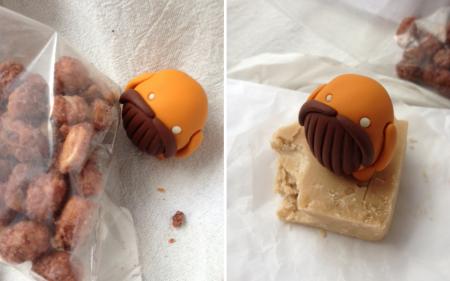 Nugs–baitedhookhandmadeHobo Nug eating our beer nuts and conquoring our fudge. Photos taken by Alexa. 
Our booth was even visited by a fellow blogger, Joe Lewis (velevthighway.com) and he featured my tea towel on his Facebook page! Thanks Joe!
On Sunday evening Michelle and I packed everything up, took down our tent and drove home. We were exhausted but still buzzing from a great weekend... Next weekend; Queen West Art Crawl in Trinity Bellwoods Park... HERE WE COME!