Don't Quit Your Day Job....
Submitted by
Saskia
on October 12, 2010 - 9:51pm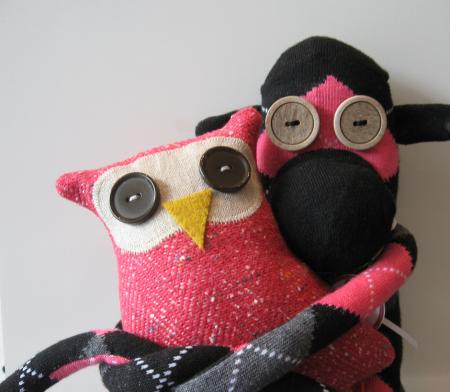 IMG_3776.JPGCrafting has always been a huge part of my life and I have always had at least 3 projects on the go at any given time and about 40 in the back of my head waiting for a spare moment. I have always been open to selling what I make but have never really actively sought a forum for selling until this year.
2010 has been the year of turbo charging my crafting. My friend Michelle, owner of Kempton Jones, also has a passion for crafting. She has been a huge influence in making things happen. Together we have fueled each other into doing more with what we make. We both started our own Etsy shops this year and
embarked on the fickle world of craft shows. On my own I launched my website to promote my work as well as my blog which you are now reading (Thanks!).
For those of you not familiar with Etsy. It is an online shop for handmade goods by people all over the world. There are thousands of vendors and it's a great place to find really unique clothing, furniture, one-of a kind nick-knacks, antiques and much more. I have bought many things from Etsy but, alas, have sold nothing. My products have been marked by many Etsians as a favourite, which is a huge compliment, and both my fish and my sock monkeys are in many Etsian "treasuries".
One day I was "convo'd" through Etsy by a woman who wanted to write a review on my products. I was so flattered I sent her Franklin Sock Monkey ($30 for the monkey +$10 for shipping). The idea was that she would write a review and for extra exposure I could do a giveaway. The interested parties would have to read my blog, check out my Etsy site and do a number of other online tricks to be eligible to win. The review was short. The contest was fair but certainly didn't generate the buzz I thought it would. I shipped another monkey plus garland to the winner in the US ($45). That's a total of $80. Not to mention the woman who won the prize never even emailed to say she received the package. Ok, so I learned my lesson. As I tell my students, "the best way to learn is by doing and the best way to remember is by making mistakes." I remind myself. I remind myself...
Mostly my Etsy site sits there. I read all the tips for Etsians on how to make your Etsy page stand out and I have done a lot of the tweaks that they recommend. My problem is time. I teach 2 nights a week at OCAD University on top of my full time job during the day. This means that most weekends I must prep for the week ahead and mark 2 classes worth of projects. Tuesday night is blog night and at some point during the week I need to find something to write about so there is more time gone. Then I have to set aside a few hours here and there for crafting. I simply do not have enough hours in the day to keep my Etsy site fresh. Etsy is a great tool and very accessible for crafters who are usually in need of economical options. But it is a full time job if you want to make it work.
So Michelle and I decided that we needed another venue – a place where people can touch and interact with our products.  As luck would have it I was approached by a consignment craft shop along Queen Street West. This opened up a world to us we didn't know existed so we did some research into consignment shops. This is how it works.... Crafters rent shelf space. The amount of shelf space and price varies and you must rent for a minimum of 4 months to start. It isn't cheap but it isn't outrageous. Then the shop takes a percentage of all your sales. The percentage varies between shops, owners and locations. The range seems to be between 20% to 30%. Yikes!
Armed with this information Michelle and I went to see The Purple Thumb. The shop has 2 locations and the one that we were interested in is on Palmerston just off Queen. It is a beautiful little shop with great natural light from skylights. It is clean and the products are lovely but the location worried us. It is close to Queen but not on Queen and the foot traffic was just not there. For the amount of money we would have to invest on shelf space we would need a lot of potential customers walking in off the street.
Michelle did more research into consignment shops and set up an appointment with Periwinkle. They too have 2 locations but we were interested in the one at Eglinton and Avenue. We chatted with the owner who was very accommodating and answered all of our questions. After leaving the store we grabbed a coffee, did some calculations, put together a game plan and Michelle called the shop the next day and told the owner we would be renting half a cabinet starting October 3rd. I have been sewing like a mad woman ever since.
 
On October 3rd Michelle and I went to set up. Now Michelle has her Owlies of Ontario and I have my Sock Monkeys on 3 shelves in Periwinkle at 382 Eglinton Avenue West (just west of Avenue Road).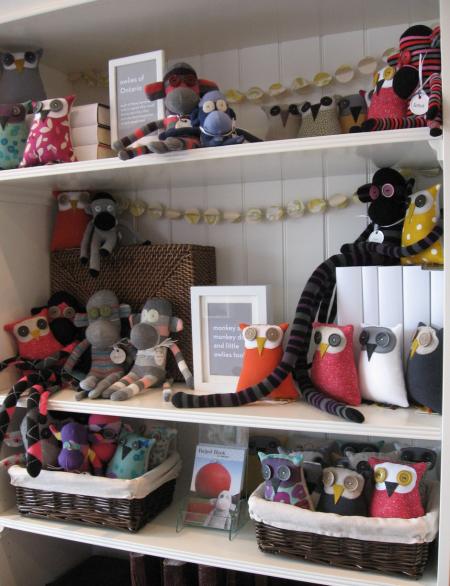 IMG_3765.jpg
At about the same time I was invited by a shop in Warkworth Ontario to sell my monkeys and Neapolitan Ice cream Garlands. The owner, Terry Dodsworth, wants to have my monkeys on display for the Warkworth Gallery Hop and for a Christmas window display. The shop is called Nature On Main. I had to have 12 monkeys sewn and ready for delivery on this past Saturday. Fortunately I had booked the Friday off a few months ago as an extra long weekend around Thanksgiving. I left my house Friday morning bright and early and spent the day sewing at my mom's house. Mom even helped me sew on some eyes. I managed to finish the 12 monkeys by the time my brother arrived at 5:00 pm with his wife and 2 children. We sat around the dining room table after dinner naming them together. We had lots of laughs... Judith, Gustav, Wynston, Mildred...
My brother, a lawyer and entrepreneur, did some calculations around my crafting. He has concluded that at the end of the day, factoring in the % that the shops take, the cost of renting the shelves, material costs including buttons, socks, thread and stuffing I will be making approximately $3.75 an hour.
I have tried to explain to him that it's not about the money. It's just fun to do and I enjoy it. Right now it's a hobby. But I am waiting – and working – for my big break.
It's now Wednesday and I just heard that my little one's, Sophia Sock Monkey and Elliot Sock Monkey, were just sold ino a loving home from our shelves in Periwinkle. VERY EXCITING INDEED!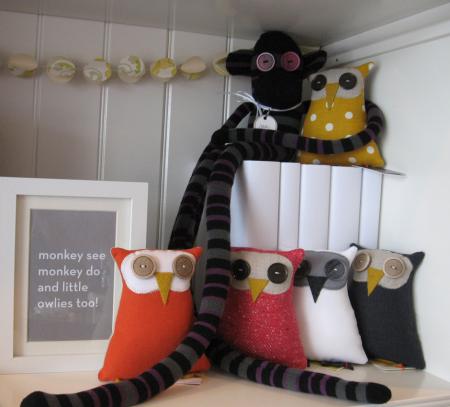 IMG_3769.jpg
http://www.periwinkleonbloor.com/HAUTE.htm