The Hungarian Culture Club Spring Craft Sale.
Submitted by
Saskia
on April 11, 2011 - 9:38pm
I woke up early, threw everything in the car and hit Michelle's house by 8:00am. Today we are driving to Oshawa for my first craft show of 2011. The Craft Show is taking place at the Hungarian Culture Club and I have been told that it is all about the food. The sun is shining, we have coffee, it's going to be a great day.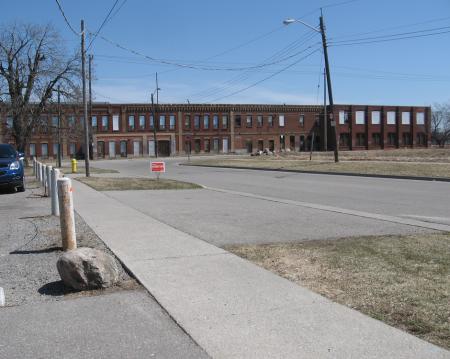 End of the road
We turn off the highway into Oshawa and immediately we get lost. We have to double back and wind up driving slowly down a quiet street towards empty lots and
a derelict building. We are about to make another u-turn when we spot a small red brick building sporting the colours of Hungary on the sign above the door. We have arrived. We pull into the gravel paking lot and spot Shandell (www.dellzines.com) hoisting her cow print suitcase containing all her lovely jewellery up the concrete steps.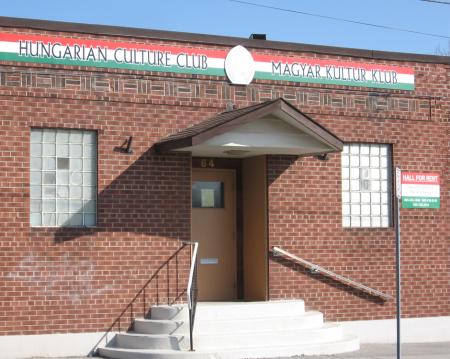 Hungarian Culture Club
We follow Shandell inside and are greeted by Anna; organizer of the show, great-grandmother and knitter. She doesn't shake our hands. Instead she gives us each a huge hug and flashes us photos of her great grandson. She shuffles us over to our table which has a styrofoam container and an envelope sitting on it and gives us the run-down of how the show works in her thick Hungarian accent. She leaves us to set up our table and Michelle (www.kemptonjones.com) and I get to work perching monkeys on top of baskets and arranging cards, owls and cat nip toys. We open the styrofoam container to discover that it is filled with little Hungarian treats, cookies and squares. The envelope contained a receipt for our table fee, our complimentary lunch coupon and a name tag lovingly outlined in marker with the colours of Hungary and a safety pin for fastening.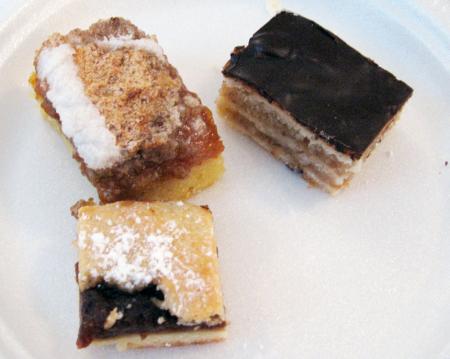 Treats
While I wait for the show to start I drink in the surroundings, crazy leaf-inspired chandeliers hang from the ceiling, a taxidermy deer-head is mounted to the wall near the entrance which complimets the wood panelling that travels from floor to waist height around the entire room. The walls are hung with old maps of Hungary and display cases containing traditional Hungarian items such as clothing, tools and decorative bric-a-brac. Some of the vendors are selling Hungarian products like hand rolled noodles, tatted doilies and runners, embroidered tea towels and traditional toys.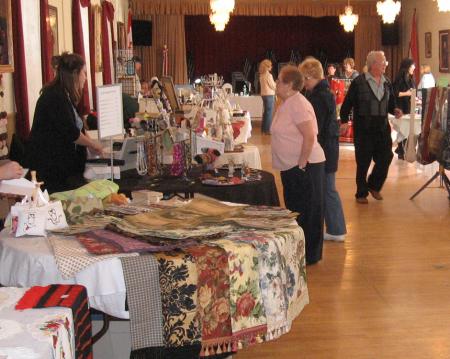 The Hall
The majority of the vendors are above 50 years of age and many of them are Hungarian. There is a kitchen just to our right and women are bustling in and out with big soup pots and large pans. The smell that wafts in and out with them is incredible. The women from the kitchen will pass by the vendores and exchange pleasantries in Hungarian. The men appear to be busy but are essentially not doing much, one is seated in front of the kitchen cash box even though there are no customers yet.
All of this overwhelmes me with memories of my childhood – visiting my grandparents who were rooted in an ethnic community in a small town in Ontario. A trip to my grandparents would innevitably include a church bazaar, a visit with my Czech relatives, or a dinner at the Lion's Club. My grandmother would always have Czech treats like buns with plum jam in the middle or dumplings waiting to be boiled.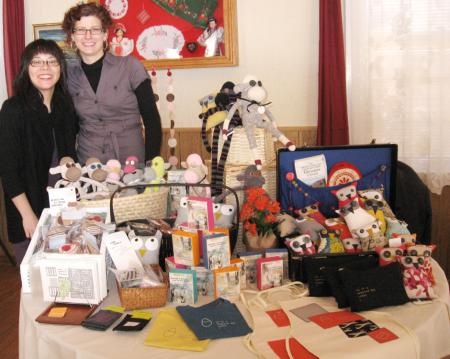 Our Table
The morning is slow. A few people trickle in but nobody really pauses at our table. They walk in and chat with friends or wander down into the basement. Michelle finally goes to the basement to find out what's down there. When she returns she laughs and says there's a garage sale going on as well as a bunch of tables set up where people are drinking coffee. It seems as though this is more of a social event than a unique shopping experience.
More people arrive as it gets closer to noon. People walk through the door with large plastic tupperware containers. Michelle leaves our table with our lunch coupon and returns with a bowl of goulash, 2 cabbage rolls and slices of rye bread. The food is sensational and we now understand why people are showing up with tupperware. They are buying tubs of this delectable stew to take home with them. I wish I had known.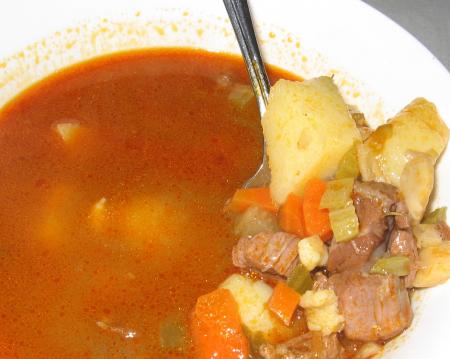 goulash
After lunch we settle in for a long afternoon. Chatting with Shandell and Monique (www.urbancontessa.ca) was terrific and helped to pass the time. The highlight of the afternoon happened when Miss Budapest arrived. She was a lovely person who was very enthusiastic about her position and eager to talk about her experiences. She was sad to tell me that her reign is ending soon but it is for the best because she will be starting college in the fall. You can see Monique in the background of my photo with Miss Budapest. She is obviously jealous of my photo-op.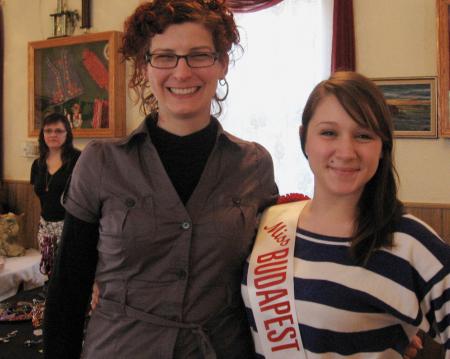 Miss Budapest
The day wrapped up a bit early. This was obviously not the right market for us. Michelle and I each raked in a whopping $5 profit. But it was a fun day with delicious food and good people. And it always warms the heart to remember those who are no longer part of our lives. My grandma and my grandpa.