My Atomic Ami
Submitted by
Saskia
on April 19, 2011 - 11:11pm
Another school year is over.
Even though teaching brings an element of insanity to my already hectic schedule, I always miss the interaction with my students and their unique and enthusiastic approach to design when it's over.
The last day of class seems fairly anti-climactic considering the struggle, hard work and effort that goes into teaching a class – and participating in a class. I know that my students are with me for only 4 months but I really do feel that it is worthy of celebrating. A fairwell of sorts, a bon voyage into their future – may it be as bright and successful, positive and creative as you all dream it will be. Most of these students I will never see again. But every year there are a handful of students who continually pop up. Some from 3 or 4 years ago still email to tell me of their successes, where they are now and where they hope to go. Some ask for my advice on some of the tough decisions they encounter in the working world. And some just send a note to share a small victory with me. These are the moments that light me up. Not that my ego pretends these triumphs have anything to do with me but that they remember me and know that I am interested in hearing every detail.
This year one of my students had come to me for advice during the semester. I had helped her like I have helped so many. On the last day of school she handed me a small rabbit that she had made to thank me for spending a few extra minutes with her. It turns out she too is a crafter and her shop is Atomic Ami. I must admit I was blown away.
When I got home I checked out her site http://www.atomic-ami.com/ and it's wonderful. Her and a friend crochet cute all day long. They have an on line shop and sell to stores in Toronto. 
My little Atomic Ami is the sweetest little guy and I have added him to my collection of cute. Baby Monkey is also a big fan. Thanks Jessica for this thoughtful gift. He has come to a good home.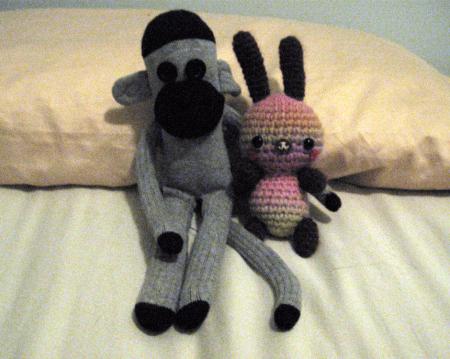 Baby Monkey and his Atomic AmiBaby Monkey and his Atomic Ami
http://www.atomic-ami.com/post/4612116003/for-my-prof-saskia-who-has-hel...