One of A Kind _ Again and Again
Submitted by
Saskia
on April 1, 2012 - 8:18pm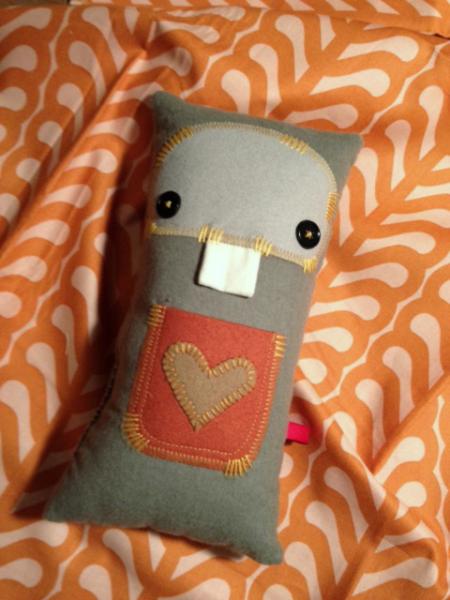 MoxyTootsBucky by Moxy+Toots
I never get tired of walking through the One of a kind show. There's always something unexpected and always something I can't resist buying. This year I had to buy Bucky. What caught my eye with Bucky was the fact that he is a rectangle. That's it! There were other munchkins that were circles and even some that had arms and legs but the rectangle sealed the deal with me – simple but wonderfully sweet. I will be sad to part with him in a month when I give him to my nephew, who is just about at the tooth-loosing age. Bucky doubles as a tooth fairy pillow – his heart patch is a pocket for teeth to btraded for cold hard cash! Bucky was made by Moxy + Toots.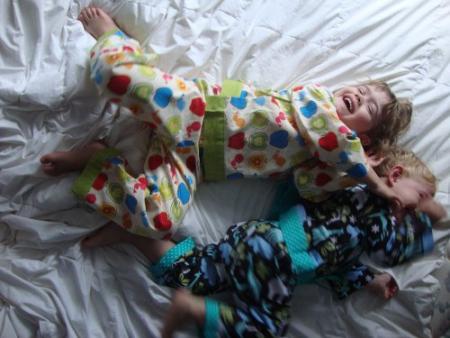 TheSigningSparrowKimono Pajamas in Action by The Signing Sparrow
I also bumped into my neighbour Carmina Scott who makes children's clothes under the name The Singing Sparrow. This was her first experience at the One of a Kind. The clothes are bright and colourful. "The fabrics are carefully
chosen and are of high quality natural fibers." Her website promotes the fact that "she does her best to reduce waste by upcycling scraps of fabric to create even more beautiful and useful kids products like toy bags, quilts and appliqués." Congratulations Carmina!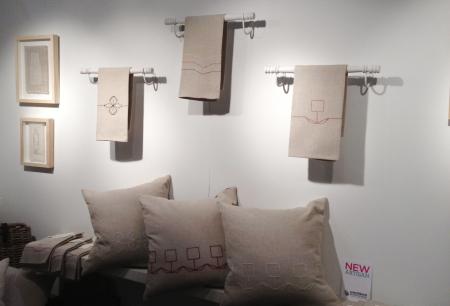 True Sew TextilesOne of a Kind Booth Display and Textile Design by True Sew Textiles
Another treat was seeing an OCADU student –True Sew Textiles by Joanna Schleimer. Her products are naturally simple – even her booth was sophisticated in it's minimalism. All of her designs are done by hand - she weaves her own fabrics and hand sews the designs onto them. Truely lovely to see.
Just another 8 months until the Christmas Show!