At the end of the rainbow.
Submitted by
Saskia
on September 14, 2010 - 9:07pm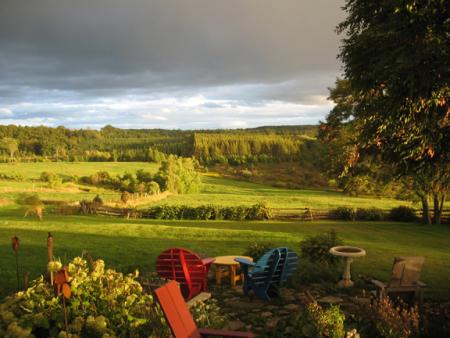 Field_1.jpg
It is a dreary, overcast, drizzly day. I am off with my mom and my dear friend Kimberley to have dinner with friends, Sandy and Ian Mackie. Sandy and Ian are both Ontario artisans who create wood furniture and woodland products and I have been wanting to see their studios and home for 2 years now!
Their home is situated in the lush countryside of Eastern Ontario, nestled between apple trees and
curly willows, atop rolling green hills, crisscrossed with an old cedar-rail fence and a pond in the near distance - it's as if I've stepped out of the car and into paradise.
Ian immediately takes us on a tour of the garden and his workshop before the real rain comes. His workshop is fantastic with band saws, jig saws, sanders and an area for spray painting. Templates for his chairs hang everywhere, pieces of chairs are stacked in organized piles: left arm rests, right arm rests...
Ian makes and ships his chairs as a kit that you can put together yourself and is the only carpenter who does this for the popular Westport chair. "Each chair is shipped flat and ready to assemble with nothing more than a screwdriver and an hour or two to spare."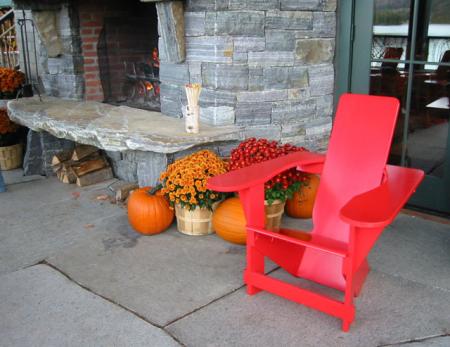 lakeplacidlodge1-2.jpgIan Mackie's Westport chair at Lake Placid Lodge (image: www.jardinique.com)
Ian's newest creation is an adaptation of the modular Rietveld chair. They are so much fun and are actually incredibly comfortable to sit on.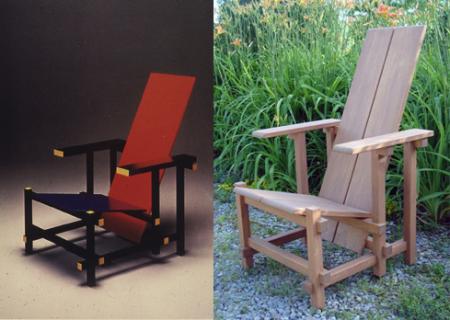 ReitveltMackie.jpgLeft: The original Rietveld chair (image: www.terraingallery.org). Right: Ian Mackie's adaptation (image: www.jardinique.com).
Ian takes us around the back field and shows us the old barn that fell over. This barn is what is supplying Sandy with the wood she uses to make some of her woodland products – frames, mirrors  and signs. Behind the decrepit barn are bee hives that they are "sponsoring" for a local farmer and add to the overall ambiance of the field. Walking back towards the house we see Sandy's vegetable garden and a few of the candy coloured chairs of Ian's on the back patio. But we scoot inside before the rain starts pelting down.
Inside, their home is warm and cozy and there are cats. Many cats. I am once again feeling as though I am in paradise. I love cats and this particular bunch are lovely and lively!
The house is so unique. It had been an old farm house that they added an addition to. An original outer wall of the house was kept as a wall in the interior. They left the peeling, cracked paint as it was and simply hung an antique phone and a few of Sandy's frames on it to make it part of their interior – the texture is marvelous and completely unexpected.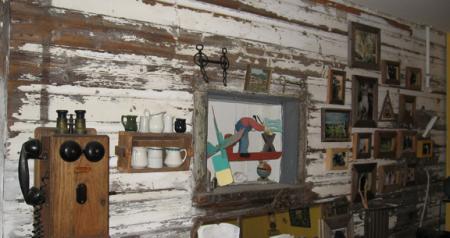 indoor outdoor.jpg
Sandy explains her belief in salvage and reuse and this can be seen throughout her home and in all her work. The island in the kitchen where we sip our wine has been built using the old boards from their barn. The gazebo that Ian built from the remaining barn walls uses wonderful big windows found at the side of the road and most of the furniture in their home are antiques or pieces gleaned from friends. The eclectic mix of furniture and artwork makes every corner interesting and exciting.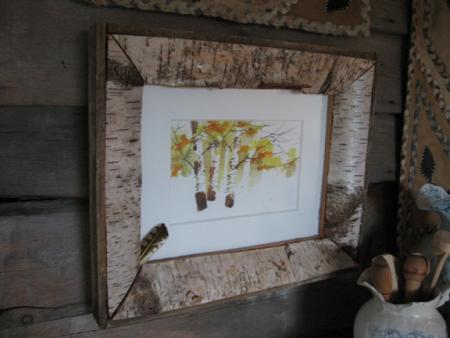 sandy frame.jpgFrame by Sandy Mackie

Sandy's studio is much like mine, with boxes and piles of things in every corner. Items in various stages of completion and materials gathered for future projects not yet dreamt up. Her frames and signs are made from anything natural: sticks, stones, bark, branches, shells, drift wood and, of course, barn boards. They are lovely, natural, charming works of art and can be custom made to any size.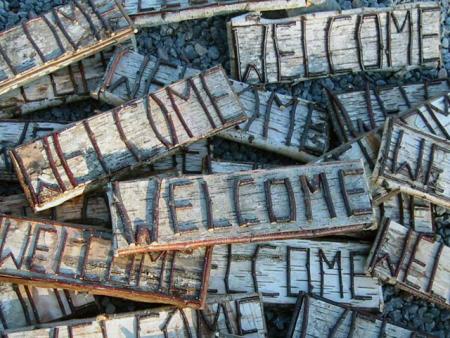 WoodlandSigns_Website.jpgSigns by Sandy Mackie (image: www.jardinique.com)
While sipping at our wine Sandy, a One-Of-A Kind Craft Show veteran, gives me pointers on the do's, the don'ts and the "avoid at all costs" of the craft show world. She gives me a few names and phone numbers and even a booklet (which I haven't yet scanned) to help me get my own handmade happiness selling.
I glance over at the counter next to me and there are tomatoes of every shape, size and colour all picked fresh from Sandy's garden. She ladles spicy tomato soup into bowls and calls us to the table.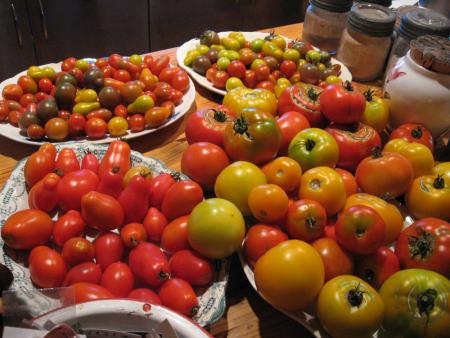 sandytomatoes.jpgTomatoes grown by Sandy Mackie
Just as I was about to sit down I notice that the clouds are breaking and the hills outside are lit up in a golden halo. I grab my camera and excuse myself to quickly take a few pictures. My shoes have been left at the front door so I scamper onto the freezing patio stones in my bare feet. I snap a few pictures just as the most magnificent rainbow appears. And then another one right above. I am amazed. Everyone tumbles out of the house and as our soup cools to the perfect temperature we all stand, shivering, in awe of perfection.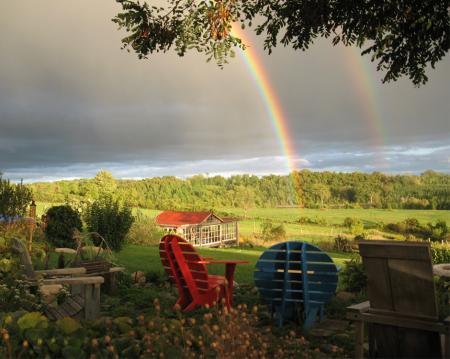 rainbow_1 copy.jpgBack inside with a cozy pair of wool socks, a delectable meal of Moroccan baked chicken, rice pilaf and apple galette, terrific conversation and cats on every vacant chair and sneakily on my lap, I can now say that I now know what lies at the end of the rainbow.
See more of Sandy and Ian Mackie's work at http://www.jardinique.com