Public Displays of Affection
Submitted by
Saskia
on September 28, 2010 - 9:46pm
On September 22 I got on the Queen streetcar heading west. I was not at all sure of what to expect from the evening. PDA (Public Displays of Affection) for Edmond Place Community Design Exhibition was opening that night at the Gladstone Hotel. I was invited to attend by my friend and colleague, Marco Jacob, who had a piece in the exhibit. "PDA for Edmond Place is an exploration in community engaged design," read the invitation.
194 Dowling Avenue used to be a roominghouse in Parkdale. The Parkdale Activity Recreation Centre (PARC), a social agency in Parkdale, has redeveloped the site and in November it will be reborn into 29 units of supported housing called Edmond Place. The facade remains the same, as it is a heritage building, while the interior structure was removed and rebuilt, complete with an elevator and roof top patio. Local designers, businesses and community members were asked to help Edmond Place to not have to resort to the usual institutional furnishings that are common to subsidized housing. Individuals were encouraged to think economically, environmentally and to use materials that had been set aside from the demolition.
The results were breathtaking, clever and very unexpected.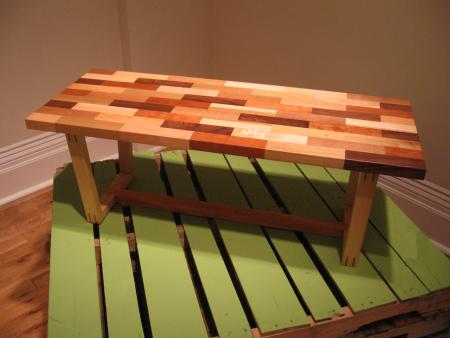 CoffeeTable_MarkTan.jpgCoffee Table by Mark Tan. Reclaimed Douglas Fir, Mahogany, Hard White Maple, Walnut, Poplar, White Oak, Ash and Cherry.
Walking through the various rooms of the Gladstone Hotel, looking at the donated pieces, I was astounded to see
that the designers had found sophistication and elegance in these salvaged materials. A beautifully geometric coffee table, designed by Mark Tan, incorporated a playful assortment of wood that added a bold pattern. Henry Salonen and Adriana Romano used wood from oak and maple shipping pallets that they found behind a local big-box store and pre-loved jeans to create the remarkably comfortable looking Blue Jean Chair. The gradation of blues is lovely.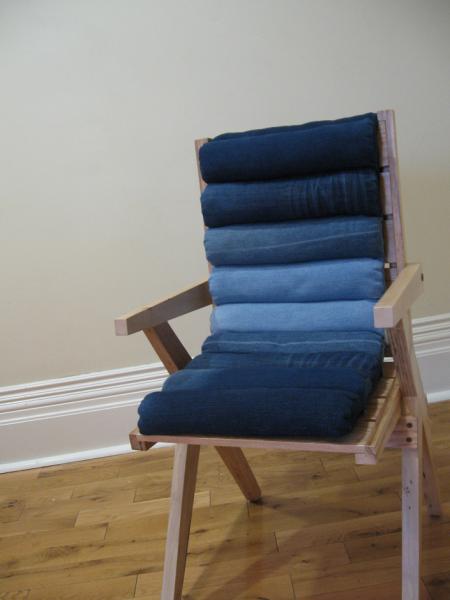 BlueJeanChair_HenrySalonenAdranaRomano.jpgBlue Jean Chair designed by Henry Salonen and Adriana Romano
One of the most intriguing pieces of the evening was the Island by Studio Junction. This incredibly weighty piece used re-purposed, engineered lumber and workshop off-cuts, TJI, LVL and plywood. The top was made from poured concrete – something that I highly covet for my own space. The fun detail was in the swivel-out stools. I want this piece!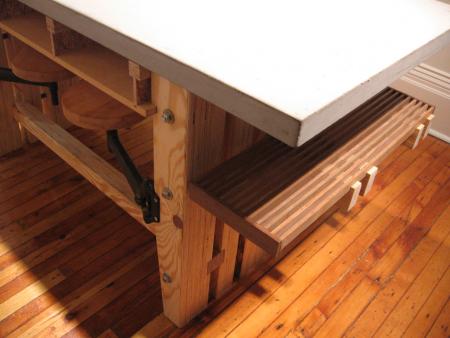 Island_StudioJunction.jpgIsland by Studio Junction.
There were even woven planters and quilted pillow cushions.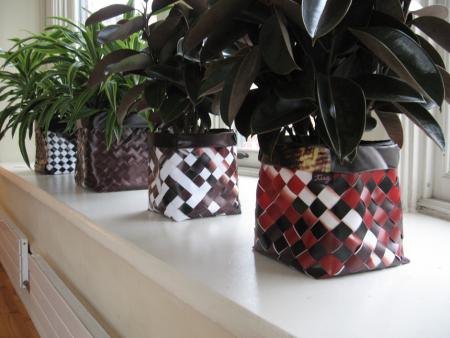 Planters_TUG.jpg
Planters by Tug made with reclaimed materials from Designer Fabrics and friends.
Marco's side chairs were lovely, simple pieces. Practical and economical. Lovely in both their raw state or painted a solid colour. When speaking with Marco his thoughts were quite insightful. He explained that he approached this project from the perspective of those who were going to live with the items. Do they want their furniture to look reclaimed? These are people who have had to "make do" for most of their lives. He wanted to make something beautiful and timeless. He didn't view this project as a "one-off." Marco's goal was to create a piece that could be manufactured and be affordable to those in need and desirable to those who want.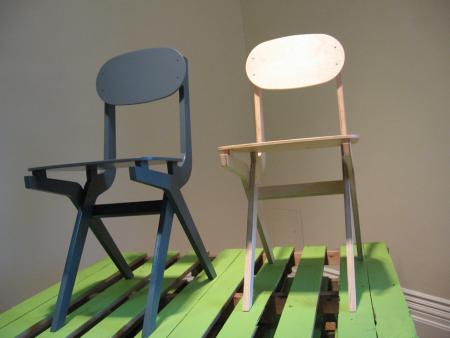 EdmondPlaceSideChairs_MarcoJacob.jpg
Edmond Place Side Chairs by Marco Jacob. Baltic Birch plywood.
By the end of the evening I did, indeed, feel warm and cozy. The exhibition was a nice little reminder that people are ok. That people recognize need in Toronto and act.
See more of Marco's work here:
http://www.atelierjacob.com/