A Terrific Union
Submitted by
Saskia
on December 14, 2010 - 9:48pm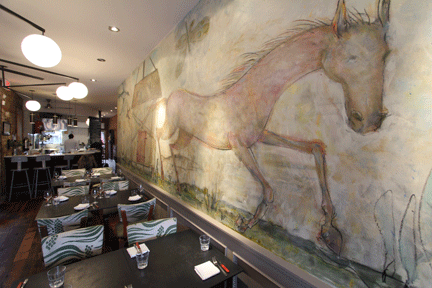 Union Restaurantimage of Barbara Klunder mural, from www.union72.ca
Why does the holiday season mean that we jam one month with parties, get-togethers and catching up with long lost friends? Why is this not something that we spread out–unite with friends in a more relaxed month? I complain but I do love this season for the very reason that for one month my social calendar is not  an embarrassment. In December I am a social butterfly!
Jammed into a weekend with a Christmas party, a visit from my mother, Christmas shopping, a blind date and preparing some Christmas goodies I met up with an old friend from my childhood. We met at the very trendy Foxley for dinner. We got there early to avoid the line and when we were finished dinner the night was still young. We wandered down Ossington until we saw a cozy little restaurant with a terrific bar up front. A perfect spot to order a bottle of wine and settle in for some catching-up.
The first thing that caught my eye when we walked through the front door was
the wall mural–whimsical, free-spirited and the colours of honey and pollen.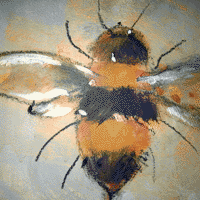 Barbara Klunder Union muralimage of Barbara Klunder mural, from www.union72.ca
We asked the bartender, Chasen, if he could tell us who had painted it. He told us it was done by local illustrator Barbara Klunder and didn't she break her wrist on the scaffolding and had to complete it by using her left hand. I cannot find confirmation of this anywhere but it makes for a spectacular story. Barbara Klunder not only is an illustrattor represented by Reactor Art + Design (the first company to hire me out of Art College) but she also teaches at the Art Gallery of Ontario, holds private shows, has explored textiles and has several published books...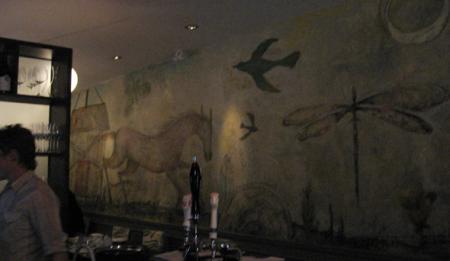 Barbara Klunder wall mural UnionBarbara Klunder mural in Union Restaurant. Excuse the poor quality I had been drinking ;)

The Union Mural is a beautiful tip of the hat to the restaurant and what it offers. I read a bit about Union in order to write this blog and I am disappointed that my friend and I were so full from our dinner at Foxley because the food sounds wonderful. The head chef, Teo Paul, works with the "from farm to chef to table" (eat fresh and local) perspective. The scene along the wall of a gilded chicken, a frolicking horse, old-fashioned barn, a huge dragonfly and a ladder leading to nowhere speaks of a hot summer day on the farm. The perfect way to warm up a December evening. That, and the wine, helped.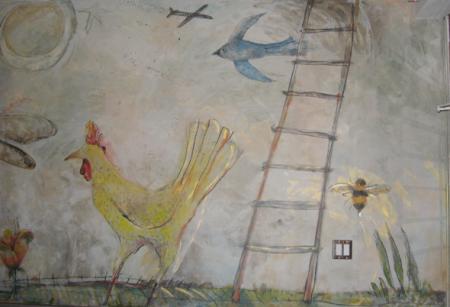 Barbara Klunder Muralhttp://www.barbaraklunder.com
http://www.union72.ca/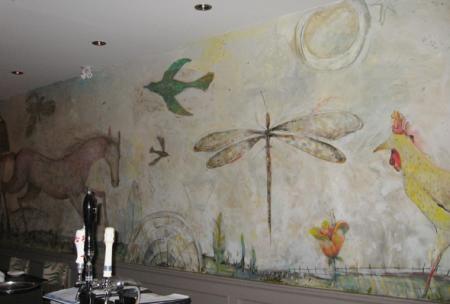 Union Mural by Barbara Klunder