The Monkey Maker
Submitted by
Saskia
on February 7, 2011 - 7:33pm
This weekend was a bit insane. I had my annual house party to celebrate the purchase of my house 3 Decembers ago. My mom met me at the office on Friday night and we immediately headed to the grocery store for all the ingredients we needed. We cooked all Friday night and all day Saturday in preparation for my guests. A big THANKS to my mom for all her help. And a big hug to Marie, my other favourite guest, who couldn't make it due to an injury – I know you were there in spirit Marie.
On Sunday morning I checked my email and discovered a note from a woman named Paola who had purchased one of my monkeys at the Speakeasy Holiday Sale in November. Paola had bought Adele, a more traditional sock monkey made from blue work socks with vintage, double-button eyes, for Marlowe. Marlowe, Paola wrote, needed another monkey for a sleepover next weekend but ther was only have one still available online. Since the holiday season I have not had a moment to sew and therefore I have a very limited stock. I panicked a little. I emailed her back and tried to accommodate her as best as I could.
We arranged to meet at Dundas West subway station as it is close to where she lives and I was heading to the junction anyways. I quickly went to Periwinkle (the craft shop at Eglinton and Avenue where I still have some monkeys in stock) and grabbed a couple more monkeys so that Marlowe could have a few to pick from. I then headed to the west end of town.
"How will I recognize you?" Paola asked. "I'll be the one holding the monkeys," was my reply. And that is exactly what I did. I stood at the corning of Dundas and Bloor holding sock monkeys looking like a lunatic.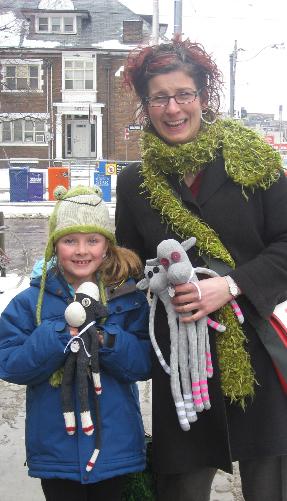 Marlowe and the Monkey Maker
Marlowe and the Monkey Maker. Photo courtesy of Paola Giavedoni
Sure enough Paola and Marlowe walked up to me with big smiles and Little Flora was taken to a good home.