New Monkey Product
Submitted by
Saskia
on March 14, 2011 - 9:39pm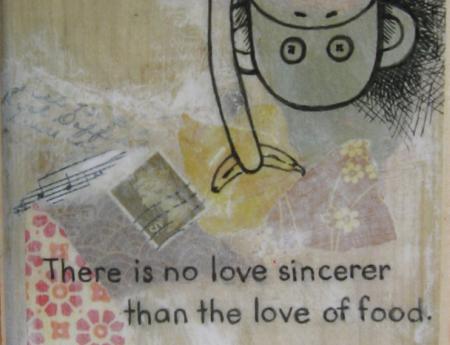 Monkey Plaque – ORANGEMonkey Plaque by Saskia. Quote by George Bernhard Shaw.
I am slightly obsessed with sewing sock monkeys. It is relaxing and feeds my inability to sit still. I can contentedly sit and watch a tv show without getting fidgety if I have a needle, a thread and monkey parts that need to be assembled. I only want to keep one monkey as my very own so what am I supposed to do with them once I make them? I try to sell them and I give them as presents instead of wine when I go to parties (which is why my friends think I'm a bit cracked). After last year's Christmas crunch sewing my fingers off for craft shows, even recruiting my mother and friend Marie to sew some limbs on for me, I decided that it might be wise to branch out and not rely so heavily on such a labour intensive hobby.

Armsandlegsandtailsandears.jpgArms and legs and tails and ears
I do not want to stop working on monkeys so I have branched out into a new line of monkey products – monkeys as home decor. I call them Monkey Plaques. They are mixed-media collages with a pen and ink drawing of a sock monkey  inspired by quotes and song lyrics. Very few people can afford to buy original art so I have laser copied these portraits and adhered them to wooden frames. With  brightly coloured edges and a couple coats of water-based glossy varnish they make lovely little happy pieces that can sit or hang anywhere that needs a little ray of sunshine.
I am quite happy with how they have turned out.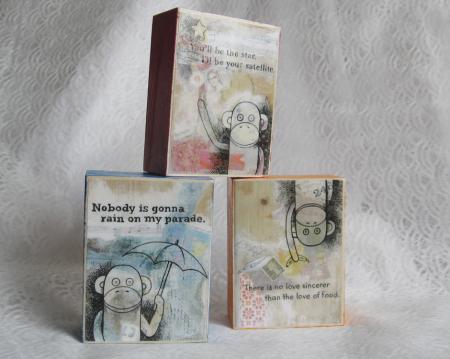 All 3 plaques