Toronto Triptych – Part II
Submitted by
Saskia
on May 6, 2012 - 7:59pm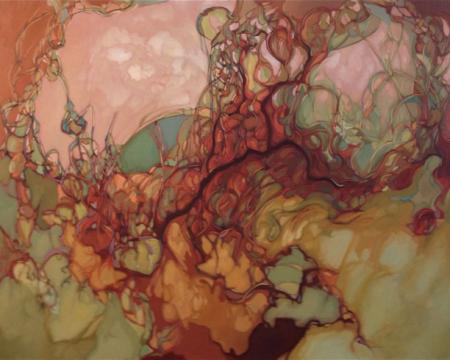 KyleStewartOil Painting by Kyle Stewart.
Kyle Stewart has been busily painting while I have been chatting with Gosia. The piece that he is working on is large and reminiscent of field grass just turning to its fall hue.  What strikes me the most about Kyle's painting is that it could be representative or non-representative depending on the viewer.  "My paintings are abstract and at the same time
landscape inspired," Kyle explains, "I went to school at Lakehead University in Thunder Bay which is probably where the nature influence comes from."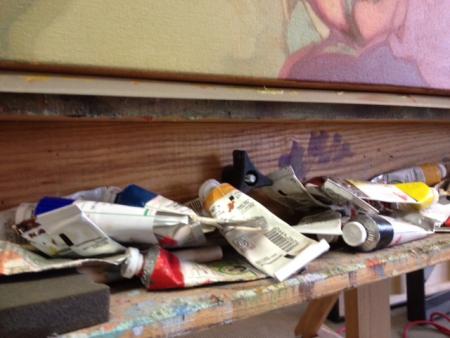 BaitedHookHandmadePaints at the ready in Kyle Stewart's studio.
Kyle does not use references. He takes shapes and clolours from nature "mashes them up" and creates new environments for them. Some of his paintings are very earthy in palette but others may have vibrant blues and oranges. "It is a very spontaneous process which is why some pieces have actual elements of a landscape or a horizon line while others end up being far more abstract and less nature inspired. Shapes and colours are still playing a role but in a very different manner, "  Kyle tells me. His process is very freeing and expressive and can culminate into very different end results.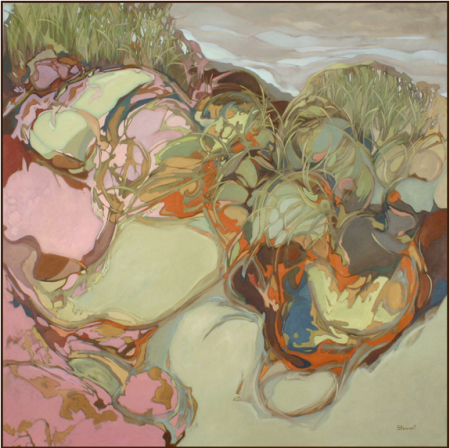 BaitedHookHandmadeBeyond The Hill. Oil on Canvas. By Kyle Stewart.
I asked if I could see his sketches but he explained that he does minimal planning of his pieces. He uses only very preliminary rough drawings as a starting point for the movement of the piece and then goes directly to work on the canvas. Kyle has started to work with an iPad to help him get a better idea of where he might take a piece. "I invent as I go."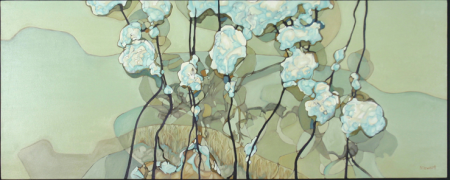 BaitedHookHandmadeTell It Like It Is. Oil on canvas. By Kyle Stewart.

I look at the painting again and feel as though I have shrunk down and am an ant walking through the dewey grass. I ask Kyle if he read Owl Magazine as a child. He looked at me blankly. "The Mighty Mites," I explain as if all the world loved the Mighty Mites cartoon as much as I did. I explain further..." The Might Mites was a cartoon illustrated by Mark Thurman about three inquisitive kids who could shrink down to the tiniest size in order to get a close up view of nature and insects. It is this unique perspective that I get when I look at Kyle's work.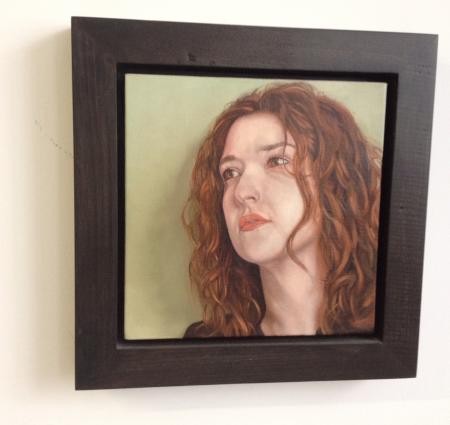 BaitedHookHandmadePortrait by Kyle Stewart.
Other than the painting that he is presently working on there is no art in his space other than 2 portraits hanging on the wall. These are very different from his abstract works. He tells me that they were "warm ups" for a new direction. Recently Kyle has started to embed representational imagery into his paintings. The first example of this that I saw was on his website. It was titled Tending The Garden. The image is of a woman emerging from Kyle's spontaneous shapes and colours. An old wrecked car is behind her and she appears to be pouring gasoline onto the earth from a bright red jerry can. The image is quite soothing until the eye reaches the canister and the viewer realizes that what she is doing isn't correct. The painting questions the viewer and brings with it a sense of unease.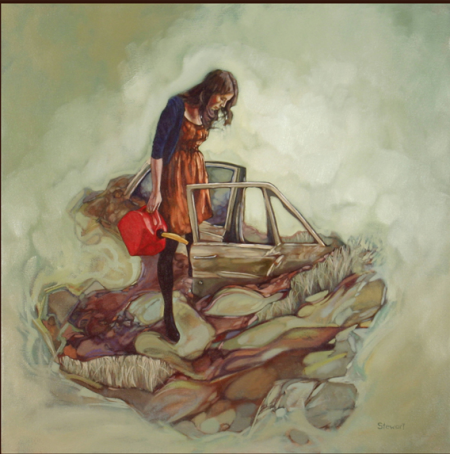 BaitedHookHandmade_KyleStewartTending the Garden. Oil on Canvas. By Kyle Stewart.
I ask Kyle about this shift to realism. "Over the years my style has built up my confidence with the paint and has solidified my "voice". I want to try new things and I want to explore taking this idea further. The gasoline (jerry) can motif is an image that has shown up in my mind and the automotive elements are being drawn from a larger concept. These first pieces are almost a test run for a larger body of work."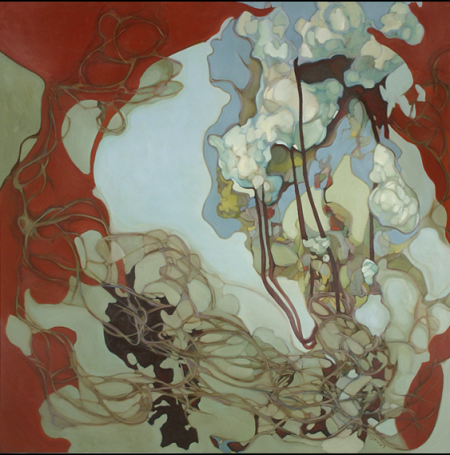 Baited Hook HandmadeHold Steady. Oil on Canvas. By Kyle Stewart.
As he is explaining this to me I get up and start to take a few photographs. One item in Kyle's space that intrigues me is the containers where his brushes are soaking. They are ordinary plastic yogurt containers. "My mom collects them for me",  he says smiling.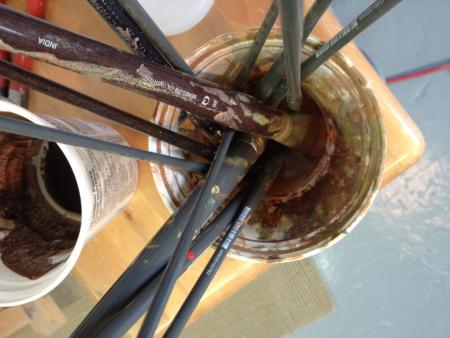 Baited Hook HandmadeYogurt containers collected by Kyle's mom.
I photograph the painting and then move in closer (like a Mighty Mite would) to see the details. At about a foot's distance colours spring out of the canvas. Lavender, aquamarine, purple, crimson colours that I never would have known were there from seeing it at a distance suddenly appear at closer proximity. I express my discovery to Kyle and he responds by telling me that these  "details may go unnoticed but subconsciously you are aware of the excitement in the colour. Overtime you see it". This rings a very clear bell for me. It is a lesson I try to teach my students – these details help form the Gestalt of a piece. It is this that is remembered, enjoyed and continues to draw the viewer back. This leads us to chat about teaching.

BaitedHookHandmadeDetails from Kyle Stewart's paiting.

Aside from his career as painter Kyle teaches life drawing for fashion illustration at Ryerson University. Kyle tells me how funny it is that when you work full time, unless it's part of your practice, you realize that you haven't drawn from a model in years. "I get jealous of my students who are drawing and finding the figure," he says excitedly, "maybe one day we will get a model into the studio so that we can draw from life".
Baited Hook HandmadeKyle's Palette.
Sharing a studio with 3 other artist has perks such as hiring a model but Kyle says he was hesitant to join the others. Kyle spent many years working alone in his studio – art fairs were a way to interact with people "I almost had to re-learn how to speak," he laughs. He was a bit nervous about how the experience would work out but it has been nothing but positive, "especially when Shaun cooks" he says laughing again.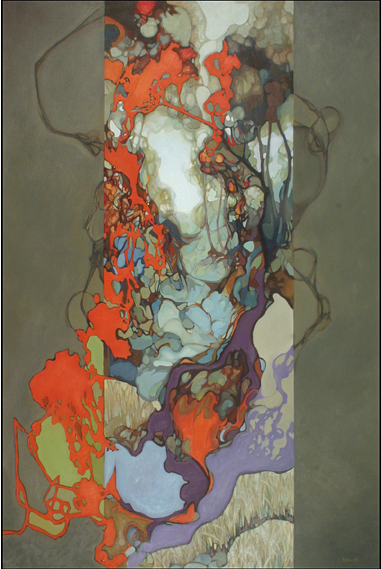 Stepping OutStepping out. Oil on canvas. By Kyle Stewart.
Shaun has finished laying down another layer of gesso on his canvases. The radio can be heard through the whirr of the fans now drying the fresh coat of gesso. Perfect timing because he's next...
To be continued next week.
www.KyleStewart.ca
info@kylestewart.ca
Twitter: @KylePStewart