Fearless colour
Submitted by
Saskia
on August 3, 2010 - 8:11am
It's a holiday Monday, the weather is perfect and my mom's Pontiac Solstice convertible is begging to be driven. We head out on the lush, curvy, hilly Ontario roads just east of Peterborough for a day trip I won't soon forget.
We end up in a typical rural town called Madoc. It has a couple street lights and some parks, a pizzeria and a few coffee shops. But what may escape the average day tripper is that just off the main drag is the home of a very unique and wonderfully interesting painter named Diane Woodward.
Diane and her cat Lily greet us as we dislodge ourselves from the car.  Immediately I am aware that this is not an ordinary home. The window frames have all been painted with red and yellow and pink stripes.
She opens the door that leads us into the kitchen and I feel as though I am Alice in a strange Wonderland. Every square inch of the kitchen has been painted. There is no surface left bare. Christmas lights in orange and red are looped along the low ceiling. The stove is a giant sun with red and yellow rays shouting "I'm hot! I'm hot!" Each cupboard door is a different geometric painting – yellow and orange dots in Op Art style framed in black and white checkerboard patterns – a spiral of red and white framed with yellow and orange dots with rainbow stripes – a  blue sky with a zebra's backside framed in red and yellow dots.
The kitchen table is a swirly flower of red and yellow on a green backdrop framed in a jester pattern of red and white diamonds. Every wooden chair around the table is a sculpture of a throne with zebra stripes, yellow and red paisley swirls and any other number of colour combinations and patterns.
As I drink in my surroundings this woman, whom I have just met a second ago, is chatting away as if we have all known each other for many years. There are cookies baking in the oven  and we are asked to remind her to take them out in 10 minutes as she leads us into the living room.
The living room, she explains, is now a bar. The bar is in the shape of a paisley swirl, designed, constructed and painted by Woodward herself. She recommends I invest in a nail gun and asks us if we have ever taken a course in carpentry. She discusses the merits of the different glues she uses and then goes on to tell us of the new mirror box paintings that she has started creating. She pulls one out and plugs it in. This painting looks like a wooden light box where every surface has been painted. It has internal lights and due to mirrors and angles the apintings appear to go on forever. The mural behind the bar is circus-like and surreal. It shows a tiger on a tightrope, lounging leopards and zebras playfighting.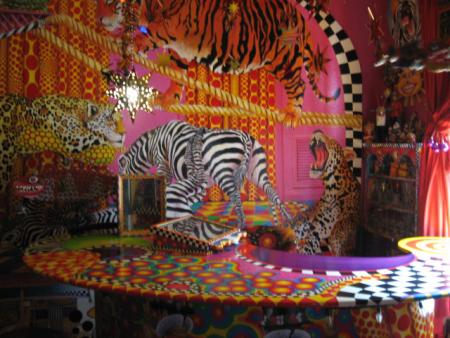 Diane Woodward_Bar.jpg
I can't possibly keep up. She is gone and reappears with a plate of cookies. She explains that she is vegan. She gives us the recipe verbally, "it's really very simple." But she looses me after spelt flour and tahini. The cookies are delicious
thus dashing my very biased opinion of vegan cooking in exacly 2 mouthfuls. I quickly grabbed a pen and a scrap of paper as I realized if I couldn't keep up I'd have to start taking notes.
The next room we enter is what appears to be her yoga room. Cushions line the walls, rugs line the floors and several of her Hindu god and goddess paintings stare back at us. At the front of the room is a giant mural titled "Holy Tree Frog."  She tells us about her exhibition "Wild" at the Canadian Museum of Nature in Ottawa in 2003/04. She points out the giant circular paintings of huge animals and reptiles on uncharacterisically monotone black on black swirled pattered backgrounds. These pieces were featured on a massive wall within the museum's entrance.
I ask about the yoga mats and she tells me that she teaches yoga. She also goes to an Ashram in the Bahamas. Her painted images of Hindu dieties can be found in the Bahamas and in Kerala. 
She leads us back through the bar and into her studio. We are asked to avoid stepping on the shiny bits as they are shards of glass and mirror. There is no chair. There is no desk. But there are pots of paints, containers of glass, mirrors, glue, pliers, wire, frames and paintings in various stages of completion. I am entranced. I have always seen the studio of an artist as a sacred place and I feel truly priviledged to be in this one. There is no air conditioning but the room is cool, dark and electric. There is a fan in the corner. It was once an ordinary fan that anyone would have that whirs back and forth in cheap white plastic. It has been painted and jewelled and it sits among the pots of paints and glue with purpose.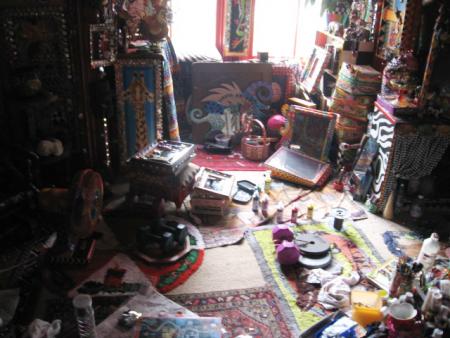 Diane Woodward_studio.jpg
We exit the studio and enter a small hall that leads upstairs. It is impossible to pass through. We must stop and linger because it is filled with wooden fish of every size and shape and colour. They have weird tree branch fins and are decorated with beer bottle caps. "The Beer store collects them for me" she explains. "But I refuse to use Coors Light". There are little wiggly fish ornaments hanging everywhere. She explains her technique for cutting them out using a really big jigsaw. First she curves the wood to get the unexpected "wiggly" profile, then cuts again to get the fish shape. There are 3 dimensional paintings lining the wall and sitting on shelves. These are sculptures that she builds, bejewels and paints. Every item is one of a kind – there is no pattern, no recipe. She picks one up to show us that every surface is painted and mirrored. "I went a little overboard on this one" she laughs. These is a groundedness to this woman that defies her surreal, off-the-wall work. She is honest, humorous and dedicated to her work.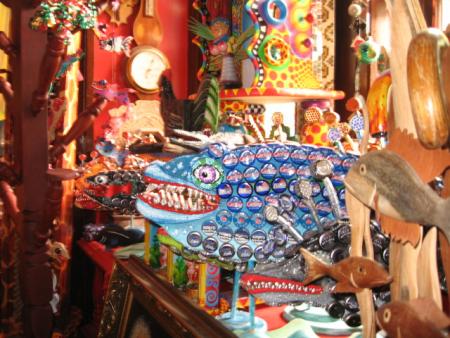 Diane Woodward_beer fish.jpg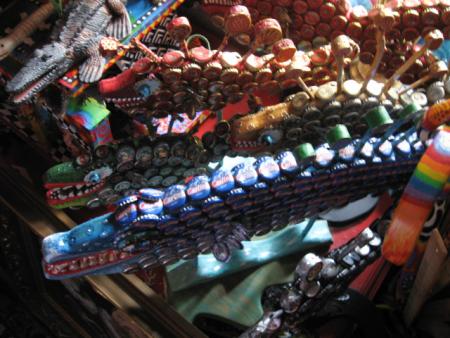 Diane Woodward_BeerFish2.jpg 
We walk up the painted staircase as Lily, the cat, runs through our legs showing us the way. The upstairs is as overwhelming as the first. Bedrooms with tapestries hanging from the ceiling paintings on every wall. Side tables, chairs, cupboards - each painted, each mirrored and bejewelled. Hindu Goddesses, giant fish,  tree frogs and zebras all peering at us as we trail behind Diane absorbing the colours, listening to her stories.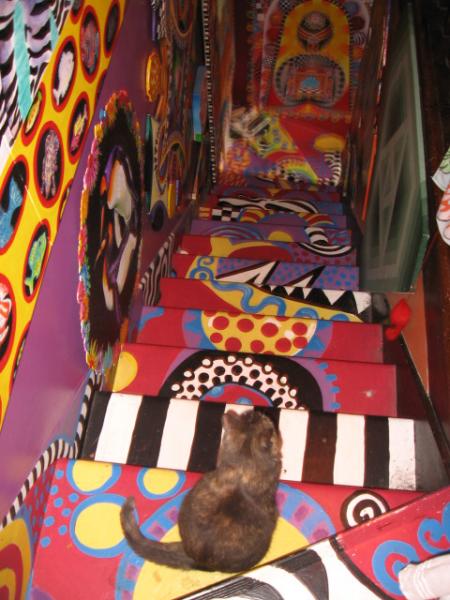 Lily on the stairs_Diane Woodward.jpg
In her bedroom my eye lands upon a laughing beer fish and I know that I am staring at a new addition to my small but precious art collection. I ask if it is for sale and she says that it is in her bedroom which means it is one of her favourite pieces but she will sell it to me anyway. I attempt to commiserate with her about how hard it is to sell work that you love. Diane disagrees - "nothing makes me work harder than an empty space." She picks the fish up and heads back downstairs.
As we pass through each room again on our way out I am desperately trying to commit everything to memory because I know my crappy little camera won't even come close to capturing the true sparkle, colour and honesty of these works.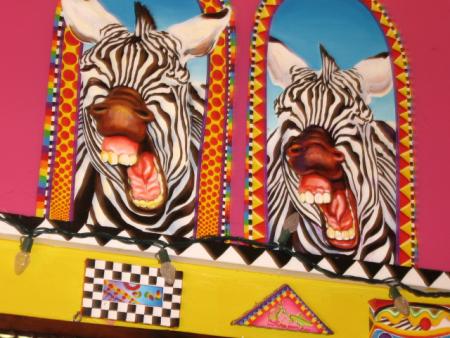 Diane Woodward_laughing zebras.jpg
We leave through the kitchen. My eye catches Diane's sandals by the kitchen door. Their structure is practical, no nonsense, comfortable but they too have been painted with patterns and colours and I smile as I close the door behind me.