Toronto's Festival of Beer
Submitted by
Saskia
on August 10, 2010 - 7:46am
The handmade handcrafted ideology runs in my family. My grandmother was a quilter, my mother an illustrator, my father a graphic designer (pre-computer) and my brother is starting a Toronto-based craft brewery.
My brother hired me as the company's graphic designer. Over the past few months I have been tagging along to beer festivals, pub crawls, beer tastings and tap countings in order to conduct serious
market research. I come home with my bags bursting with moist coasters, bent bottle caps, labels peeled delicately off bottles, weathered tent cards, bottle openers, pamphlets, t-shirts, beer glasses, caps, pins and many other beer opening, drinking and buying paraphernalia. This kind of research also includes numerous excruciating headaches the following morning.
On Sunday our assignment was Toronto's Festival of Beer. In prudish Ontario this means a large and plentiful beer garden surrounded by and crawling with security but we had a lot of fun. Some terrific craft brewers were there, nestled in between the bigger corporate brewing companies, and we tasted some really unique craft-brewed beers.
My eyes were focused mainly on their marketing and how different breweries went about making their area stand out from the rest and be remembered (a difficult task when the majority of your audience is inebriated). One of the bigger breweries had banks of computers where you could enter your vital drinking stats in order to get a free t-shirt. One craft brewery had a DJ and go-go dancers (in the sweltering sun poor girls). One featured a human blockhead who hammered nails into his nose and snapped a mouse trap on his tongue. There was even a brewery who had a wedding chapel for those drunk enough to tie the knot and a fortune teller for those of us who wondered if we'll ever get married...EVER???
But the most memorable and clever marketing tactic was done by Steam Whistle brewery – sorry dear brother I am plugging your competition. Their idea was so simple, so crafty and so CHEAP. They made bizarre hats out of their beer cartons on the spot. The line-up was enormous so we didn't get one made for ourselves. But there were carton hats everywhere. Hats, being worn on the head, can be seen from miles away. Some were towers 3 boxes high - simply brilliant.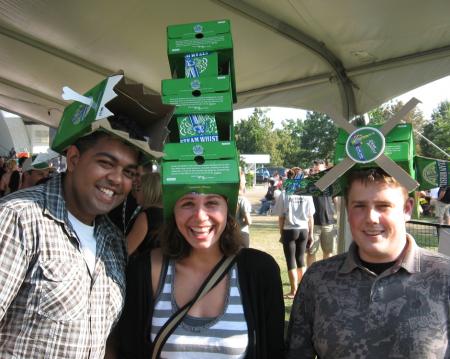 Beer Festival Hats.jpg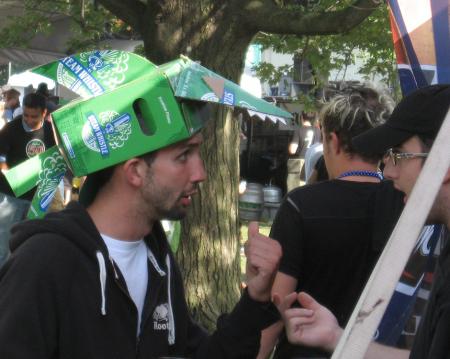 Steam Whistle Beer carton hats.jpg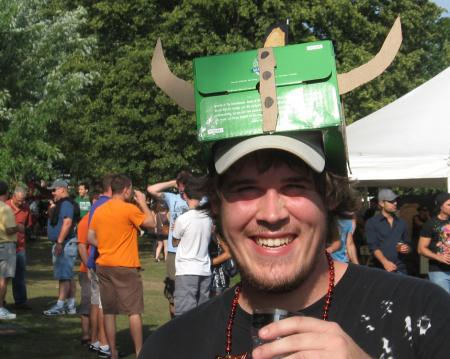 beer carton hat toronto.jpg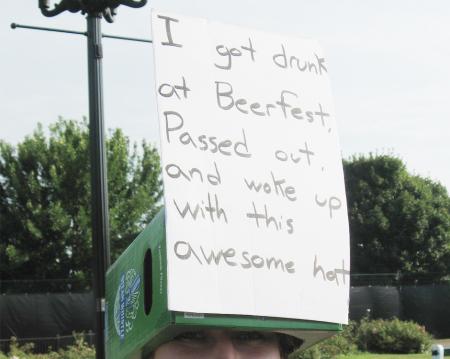 beer festival steam whistle.jpg
Thanks to all the generous folks who agreed to let me take their picture for my blog.
More on my brother's brewery... coming soon...