Saintly Sock Monkeys
Submitted by
Saskia
on August 31, 2010 - 7:54am
Why am I so infatuated with sock monkeys? Because every time I look at them they make me smile. Sometimes they even make me laugh.
It all started one day when I decided that the perfect gift for my boyfriend, at the time, (we'll call him Mr.X) would be a sock monkey – at our age we really have everything we need and anything we want is too damn expensive.
My first attempt was less than spectacular. Following instructions I found online and using a pair of itchy wool work socks I ended up with an over-stuffed,
rigid, sock monkey whose nose was too small and arms too close to his ears. He looked like a muscle man posing for a hunked-out calendar. I ended up making a few incisions, inserted some cat nip and gave him to LuLu. I think he freaked her out because she wouldn't go near him even when she was all wigged out for a nip hit.
I couldn't bare the thought of throwing him away so he is perched amongst my collection of children's books in the basement and he still smells a bit minty.
My next attempt was indeed spectacular. Simply named Monkey, he is the sweetest, gentlest monkey I have ever made. He was very well received by Mr.X and I hope they are still co-habitating together in tranquil harmony.
How I became slightly obsessed with making sock-monkeys is due to a road trip Mr.X and I took in the summer of 2007. We decided to take a trip to the Maritimes in my 2000, manual transmission, non-air-conditioned Toyota Echo. Turns out that Mr. X cannot drive standard so he and Monkey became my co-pilots, navigating our route and pointing out interesting curiosities along the way: statue of Paul Bunyan, a  covered bridge, the big apple (not N.Y.C.), the world's largest blueberry?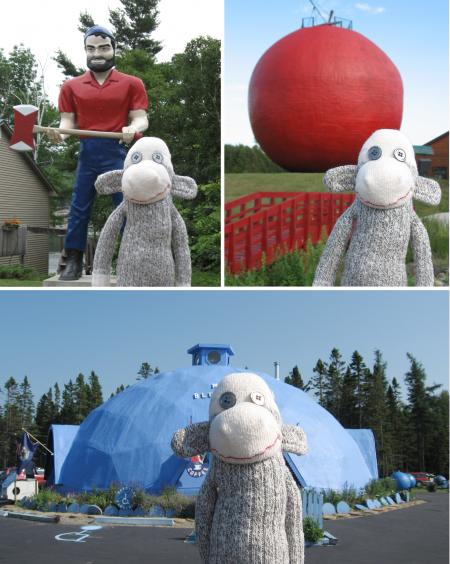 Monkeys Tour.jpg
Monkey with Paul Bunyan, at the Big Apple in Colborne, in front of the world's largest blueberry in Columbia Falls, Maine.
For those of you who have never met me, I have a bit of a fiery temper which one can avoid if they see the signs. Cooped up in a Toyota Echo for hours on end Mr. X became dexterous at calming me down by using Monkey as a medium. Needless to say that Monkey saved us from having some catastrophic arguments over the 10 days we were on the road. He sat up front everyday, he came with us when we stretched our legs, he slept with us at night and if he wasn't with us he would wait patiently in the car for our return.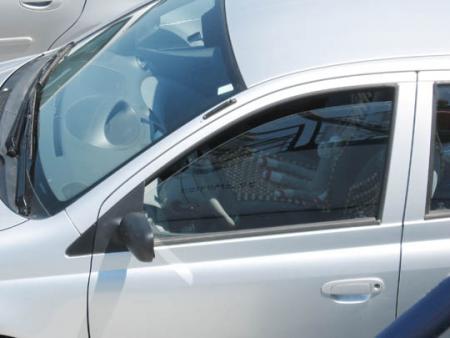 IMG_0969.jpg
Monkey had become, in a strange way, my saviour. This inanimate thing was able to turn a difficult situation around effortlessly and with a smile on his face. I began to realize that solace could be found in anything. Belief, even, could be in anything. I recognized this everywhere. It is the most obvious in children who do not feel the need to hide the fact that they need to be comforted in lofty ideologies. They simply latch onto something—anything. Their solace ccan be found in a pacifier, a blanket, a teddy bear or a thumb.
I wanted to see Monkey as an icon of solace, of belief, of security. I decided a painting, in the Byzantine style, on canvas (not my preferred substrate), would be the best way to communicate this concept. I collaged gold leaf, found in China Town for New Year celebrations, in a radiating pattern surrounding Monkey's head. A background of rich reds, symbolic of love, was collaged and painted and allows for a nice contast to the brightness of the gold. Lastly Monkey was painted. Each stitch lovingly added, the little red mouth daubed into a sea of white cotton and the black button eyes were laboured over and are still not quite right.


Monkeys Painting.jpg
This painting is the first thing one sees when entering my home. A warm welcome to all visitors.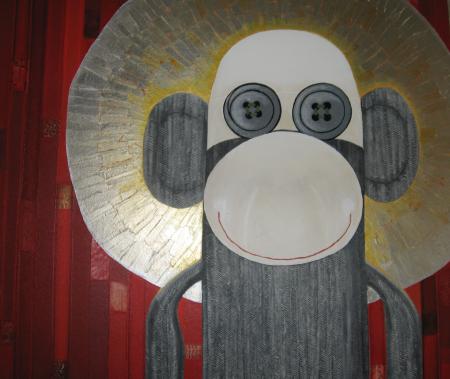 IMG_3505.jpg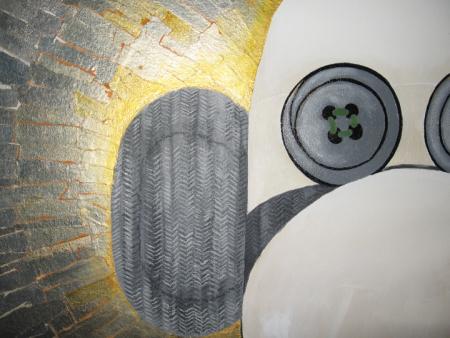 IMG_3506.JPG
While painting I was also sewing. Christmas was just around the corner and I wanted to share Monkey Love with my family and friends. I bought 6 pairs of children's socks and made a monkey for every family but I kept one for myself.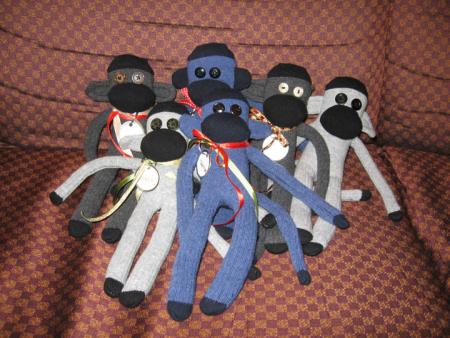 IMG_1250.JPG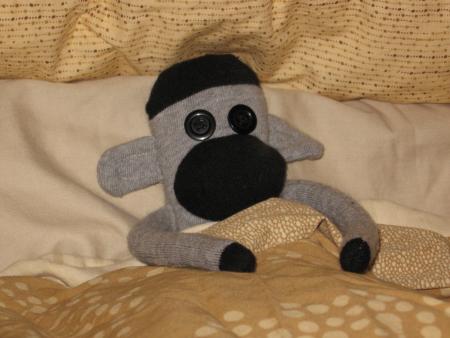 IMG_1357.JPG
If you woudl like to experience the comfort of your own little sock monkey buddy please visit http://www.baitedhookhandmade.com/products/monkeys