The Brutish Museum
Submitted by
Saskia
on September 6, 2010 - 9:40pm
Standing in the scorching summer heat with the rest of Toronto, waiting for the ferry to the island, I think back to the events that lead me to this day.
Months ago I went for an evening stroll along Danforth and saw in a store front the most incredible assemblage art. I stood there for a long time. Each individual piece stared back—deploringly. Disturbed creatures made from old things found. Some, insect-like in their protruberences, looked as though they would creep, slowly away. The more unsettling were the human figures—woeful, pleading, sad—begging passersby to free them from the boxes that trapped them.

AlastairDickson1.jpgDetails from the Brutish Museum by Alastair Dickson
"Alastair Dickson" reads the paper taped to the window. I went home and did some research. Born in Scotland. Classically trained in art and sculpture at a school in Edinburgh. Picked grapes in France. Worked as a trainee nurse in a security mental hospital in Liverpool. Went back to
art school. Bothered by the question of "meaning". Went to Munich and took up set building, musical instrument building and "serious beer drinking".
One of the details that stuck out for me was his struggle with the notion of perfection. As battered and worn as his creations appear there is a finesse and quality about them that the average person is not capable of achieving. When he came to Canada he decided to "dispense with the idea of meaning and relevance" as he embarked on his career as sculptor. However I see great relevance and deep meaning in the forlorn souls in the window.
Alaistar's website was frustratingly sparse, http://alastairdickson.com, so I decided I needed more and emailed him. His response was an invitation to his studio on the island. I accepted. And now, here I am on my trusty bike cruising towards my interview.
I arrive at what was once an old school that has been transformed into the Gibraltar Point Art Centre. It has character and smells musty. I am greeted by Alastair and am guided into his small studio space. I feel as though I've stepped into an operating room where surgeries are in various stages of completion. On the large work table an old leather dolls arm lay disconnected amongst other appendages and materials awaiting a match. On one shelf there is a series of tiny spikes each with a cork head stuck on the pike like some miniature tribal warning. These cork heads were developed for a Christmas Boutique that takes place every December. He sold them for $30 a piece. I am now in awe!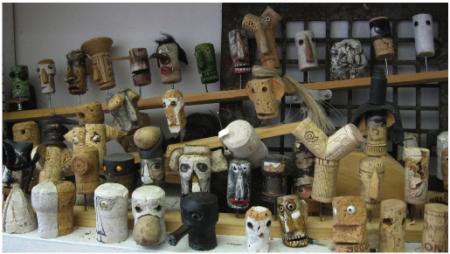 AlastairDickson1.jpg
Cork Heads by Alastair Dickson
Eyes are everywhere. I am being watched. Even when I peer into a plastic container I find seed pods, remarkably resembling little faces, peering out at me in between twists of metal wire.
Nestled between a variety of creatures I locate a jar with a sculpted cork skull inside. I ask what it is and, in a flurry, lights are being switched off and a tiny stage is plugged in. The jar is swept off the shelf and placed on the stage. "This is my latest experiment," Alastair explains—heads in jars. He swipes another jar from somewhere else and places it on the stage. This one contains a doll head with pouting lips and curling hair. It is creepy and wonderful at the same time.


AlastairDickson2.jpg
I ask Alastair about his instrument building. From out of nowhere he pulls his "Toolbox Guitar" I'm not sure if I am supposed to laugh. I think it might be a joke until he plugs it in and begins to play. I am not in any way musically trained but it sounds terrific, with a hint of a metallic twang, and he can play! I suppose it is a requirement for instrument builders to play what they make?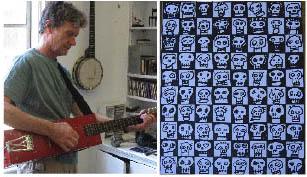 AlastairDickson3.jpg
I wanted to know more about the piece along the Danforth. It's title is The Brutish Museum. Alastair explains that it was an attempt at working in a larger format. It is 5 feet by 9 feet—45 boxes in all. He began by painting it as a chessboard and putting black figures in the white boxes and white figures in the black boxes but had to tone it down due to the unforgiving contrasts. "It became an exercise in taking things out of boxes rather than putting things in". "Birds, dancing girls, distracted mothers of pod children." And himself in the centre, a "blinkered goat person, confirming...the astrological notion that Aries always wants to be at the centre of the action." You can probably still see The Brutish Museum if you walk along the south side of Danforth between Coxwell and Woodbine.
Not wanting to impose I took leave with one final sweep of the studio—etching the many faces into my memory.
Coming home from work today I saw a couple standing hand-in-hand, riveted in front of that shop window. I wonder how these two will be affected by this gentle man's work.
OTHER POINTS OF INTEREST:
Alastair was the co-writer, designer and creator of sets, props and animated figures for the stop frame animation film The Stone of Folly released 2002.
The Stone of Folly was awarded the Prix du Jury for short films at the 2002 Cannes Film Festival. It was an official selection of the 2002 Annecy International Animated Film Festival, the 2002 Toronto International Film Festival and the Hiroshima Animated Film Festival. It won 2002 Best Animated Short at the Chicago Film Festival.
Search for Stone of Folly at http://watch.bravofact.com/

AlastairDickson5.jpg