A True Master
Submitted by
Saskia
on November 9, 2010 - 9:05pm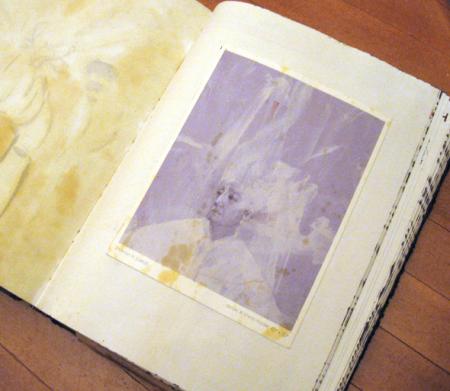 Shaman IV By John Gould
2 weeks ago I wrote about curiosity which led me to sift through my old sketch books. In one of these books I found a tattered old announcement from the Roberts Gallery for a show of John Gould's work. This announcement has led me to this weeks blog...
When I was attending the Ontario College of Art and Design (now OCADU) I had Deborah Uman-sures as an instructor for drawing. For one of her projects she wanted us to experiment with media. I didn't know what I was going to do. I have never been shy about experimenting with media. I had tried just about everything already. I had been working with collage and mixed media and really liked the quality that this brought to an illustration. But I wanted to take on her challenge and do something new.
A few days after receiving this assignment I happened to be walking along Yonge Street and passed by the Roberts Gallery. In the window was one of the most incredible drawings I had ever seen. It was a portrait of
a Shaman. The background on which the portrait was drawn was bold – pale mauve with gesso slapped across it with what appeared to be a common house painting brush. On top of these aggressive strokes was a small, controlled drawing of the man's face which melded into the gesso. The lines were perfect and captured shadow and proportion perfectly, the man's expression was regal, pensive, calm – in absolute contrast to the background. Reflecting on my own work I usually concentrated on the body and left the head hollow, blank, afraid to draw the face for fear that people would see that I was a fraud, unable to capture any remote glimmer of likeness to the model. This artist ignored the body and only drew the face, almost as if he couldn't get to it fast enough – the mark of a true master. I was enraptured. I entered the gallery. I needed to see more…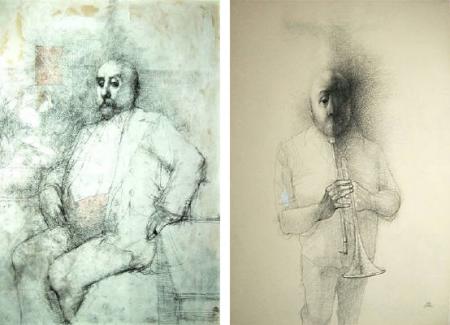 John GouldUncle – Ancestor Series and Trumpet Player – Jazz Series By John Gould
I took these drawings home with me in my mind and in my heart, as the bank account of a student is prohibitive to purchasing works of art, and drew upon them to create my painting for Deborah's class. I'm not saying that I am in anyway a master of drawing such as John Gould but one can dream. And so I did. I took masonite and put gesso down only where my image was going to be. I hadn't the courage to slap it on. I used acrylic paint and China Marker as did John Gould but I also incorporated paper collage.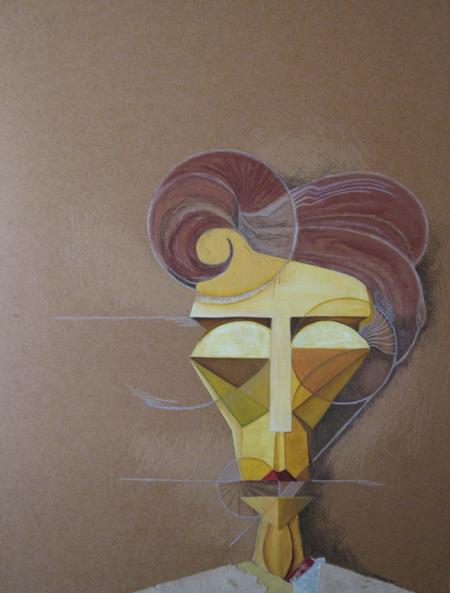 Elderly by Saskia van Kampen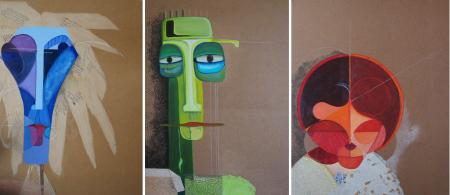 Saskia van KampenGrape Jelly, Elderly II and Girl by Saskia van Kampen
I enjoyed making this painting so much I went on to create 3 more pieces in the same spirit. They are still some of my favourite pieces that I have done.
Once I had graduated and started earning a salary I went back to the Roberts Gallery. I want to own a John Gould. I want one of his pieces in my life. The gallery took my name and put me on their mailing list. They must not have taken me very seriously as I never heard from them not even when they had a show of his. To this day I have been perplexed by this.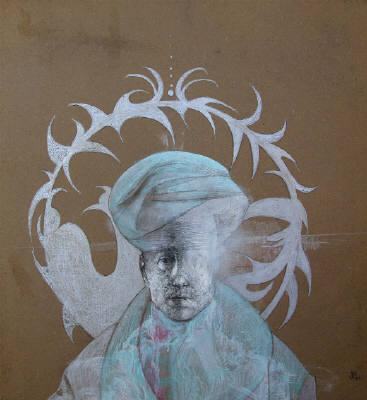 JohnGould
Shaman with Escutheon by John Gould
After finding the announcement in my sketchbook a few weeks ago I thought about writing a blog about him. If I want to own one I might as well go to the source – cut the Roberts Gallery completely out if they aren't interested in me. I became excited because what could be better than meeting the man that had such an influence on me and who was such an inspiration? I began sleuthing to find his contact information but what I found instead was an obituary. John Gould died this year. I am too late.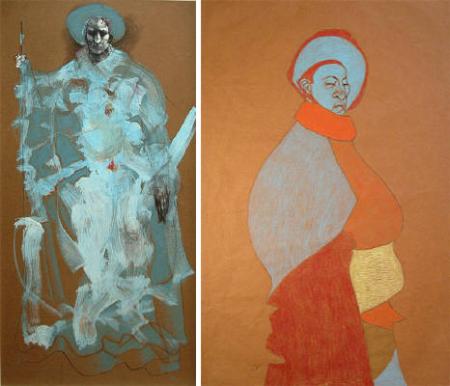 John Gould The Regent and Shaman Dreaming by John Gould