Something for someone special.
Submitted by
Saskia
on January 30, 2012 - 9:36pm

three owlsOwl sketches by Saskia van Kampen.
I needed to get a present for my friend Michelle. She is a person who has inspired me to look after my creative side and to get my butt in gear to persue my love of making things. In the last few years we have become good friends, going to craft shows together, supporting each other, eating good food together and
pondering how we can do more of what we both love; eating and making things. In that order.
The gift had to be a thank you for a great year past and a wish for good times in 2012. I decided I would need to make it, not buy it, and I decided to make it a collage on a wooded box frame, my new favourite.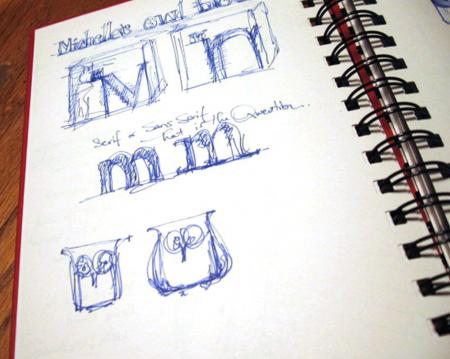 Block sketchesSketches by Saskia van Kampen.
I tried to work in a few of the things I knew that were important to her including the initials of her husband and son, the words "cutting – sewing" to talk of her crafts. The fine Japanese papers celebrate her heritage. Hiding in the bottom left corner is the word "ribs" ripped off of the take-away bags from our office's favourite Chinese restaurant. I did some sketches of owls in hopes of sneaking a little owlie in but alas it didn't work out and I papered over it.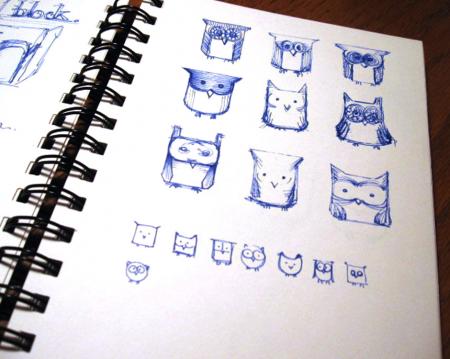 Little owl sketchesOwl sketches by Saskia van Kampen.
The colours are Michelle's favourite; mustard and purple.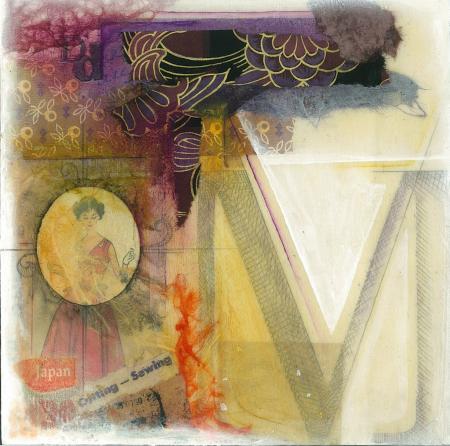 Michelles gift blockMichelle's owl block – sans owl. By Saskia van Kampe.

I had a lot of fun making this gift.