Woodbine to Dufferin and Back
Submitted by
Saskia
on March 5, 2013 - 8:59pm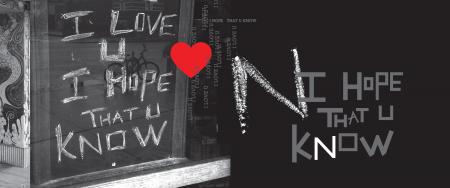 I Love You
I believe that I am inching my way closer to my thesis topic for my Design Masters at York U.
It all started with the first project in Research Methodologies class taught by Sandra Gabriel. I walked along the Danforth and then along Bloor and photographed everything that caught my attention which turned out to be mainly the hand drawn signage in shop windows and chalkboard signs out front on the sidewalks. What caught my attention was the
variety of media being used, the beauty in the messaging and the unapologetic letterforms.
The results of this project culminated in a visual analysis held within a small book.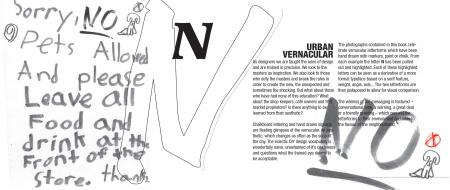 Saskia_1
As designers we are taught the rules of design and are trained in precision. We look to the masters as inspiration. We also look to those who defy the masters and break the rules in order to create the new, the unexpected and sometimes the shocking. But what about those who have had none of this education? What about the shop keepers, café owners and fruit market proprietors? Is there anything to be learned from their aesthetic? 
Chalkboard lettering and hand drawn signage are fleeting glimpses of the vernacular. An aesthetic, which changes as often as the soup of the day. The eclectic DIY design vocabulary is wonderfully naive, unashamed of it's crudeness and questions what the trained eye deems to be acceptable.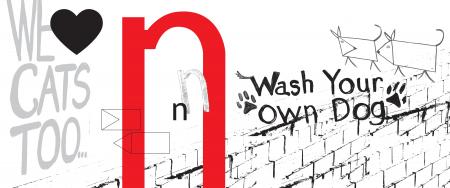 WashYourOwnDog

The photographs contained in these images celebrate vernacular letterforms which have been hand drawn with markers, paint or chalk. From each example the letter N has been pulled out and highlighted. Each of these highlighted letters can be seen as a derivative of a more formal typeface based on a serif feature, weight, angle, axis... The two letterforms are then juxtaposed to allow for visual comparison.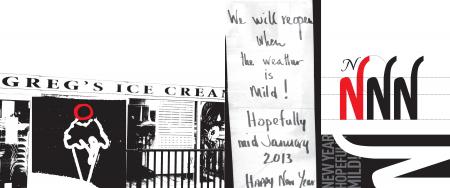 IceCream
The whimsy of the messaging is featured – conversational tone, a warning, a great deal or a friendly greeting – which connect the letterforms to their environment and adds to the flavour of the neighbourhood.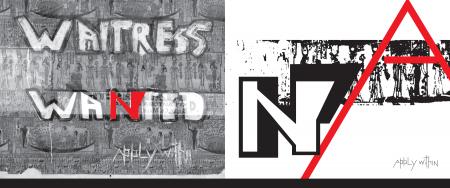 WaitressWanted