The First Kraft Karavan of 2011
Submitted by
Saskia
on May 31, 2011 - 9:23pm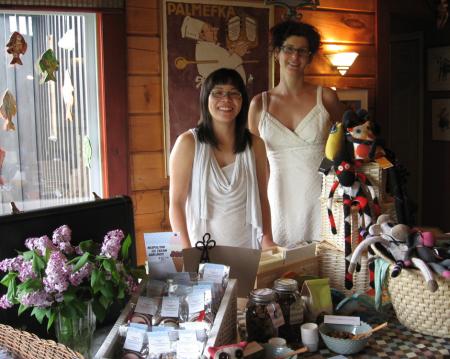 The Two Industrious GirlsMichelle Matsui of Kempton Jones and me at the first Kraft Karavan of 2011.
On Sunday Michelle and I had our first Kraft Karavan of 2011 and what a terrific success it was. The hostess was my mom and the event was at her house so I arrived on Saturday in order to help her put some goodies together for the guests. By noon on Sunday Michelle had arrived, the table was organized and the treats had been plated and set out. Just after 1:00 we heard the sound of tires on gravel and watched as 5 cars pulled into the driveway. It was GO TIME! Our guests took a few moments to introduce themselves and then headed over to our table of Handmade Hapiness.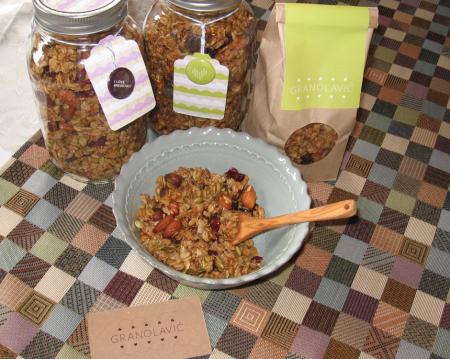 GranolavicGranola made fresh by Tomislava and Granolavic.
This Kraft Karavan featured a new seller – Granlolavic (http://www.granolavic.com/) made fresh by Tomislava. I urge you to take a peek at her beautiful website. Her granola is every bit as tasty as it sounds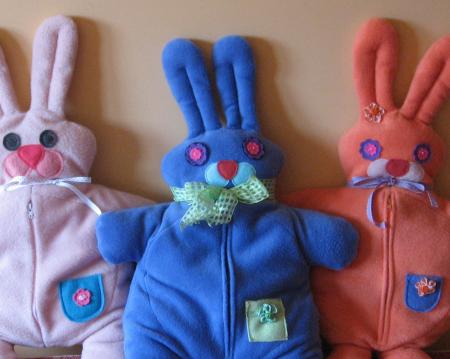 Bunny Bags by VlastaBunny Bags hand made by Vlasta van Kampen.
We also had a few new products including my mom's Bunny Bags and Piggy Pockets: Fun fleecy creatures with a secret spot for you rchild or grandchild to tuck their pj's after they wake up in the morning.
Of course we also helped Guillaume and his charity called Earn and Learn. The cards, gift bags and notebooks that the syudents made were on our table too. Earn and Learn is a program set up to help keep children living in India in school instead of having to work and help provide for their family. The money that Guillaume earns from selling these products goes towards this program. The Kraft Karavan hopes to be able to continue helping Guillaume and this amazing organization.
The day was a big success. Everyone left happy and a few more sock monkeys have found new homes.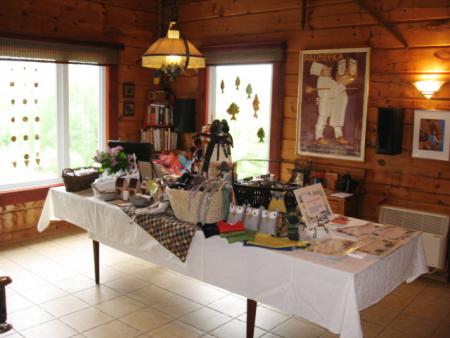 The Kraft Karavan SpreadThe Kraft Karavan table – What a spread!
KemptonJones: http://kemptonjones.com
Kraft Karavan: http://www.kraftkaravan.com
Granlolavic: http://www.granolavic.com
Vlasta van Kampen: http://www.vlasta.ca
Earn n Learn: http://www.earnlearn.org